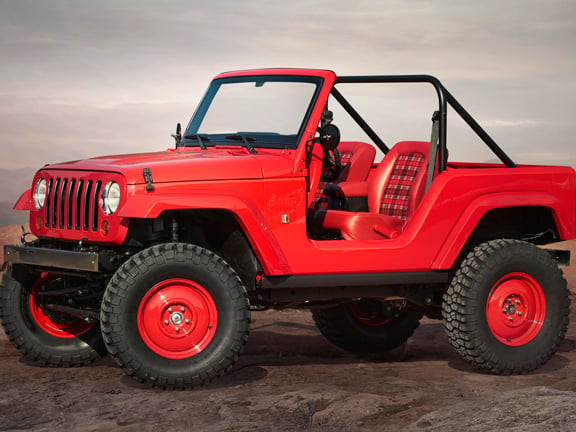 Thousands of off-road enthusiasts are expected to descend upon Moab this year to celebrate what will likely be the most popular Jeep Safari ever, as the 50th annual event coincides with the 75th anniversary of the Jeep brand.
"Every year, the Jeep team looks forward to pushing the limits with new, exciting and capable concept vehicles for our most loyal enthusiasts at the Easter Jeep Safari in Moab, where we receive a tremendous amount of valuable feedback," said Mike Manley, head of Jeep brand – FCA Global.
"This year is extra special, as together with our biggest fans, we celebrate Jeep's 75th anniversary, as well as the 50th running of the Jeep Safari. We're delighted to share seven of the most capable and eye-catching concept Jeep vehicles we've ever created at this year's historic event."
The 2016 crop of Easter Jeep Safari concept vehicles utilises both production and prototype Jeep performance parts.
The 2016 Easter Jeep Safari concept vehicles include:
Jeep Crew Chief 715
The Jeep Crew Chief 715 concept vehicle was built as a salute to legendary Jeep military service vehicles, in particular the Kaiser M715. This open-air Wrangler Unlimited-based concept vehicle showcases a burly design with heritage styling cues.
Jeep Shortcut
A carefully crafted take on the beloved Jeep CJ-5, this Wrangler-based concept vehicle invokes the spirit of 1950s Americana with a shortened body and functional simplicity. Exterior styling cues include a unique grille, hood, tailgate, front and rear wheel flares and custom chrome front and rear bumpers.
Jeep Renegade Commander
The Jeep Renegade Commander concept vehicle is equipped with an assortment of Mopar and Jeep Performance Parts for the ultimate off-road adventure. The "Fluorescent Gray" exterior features Renegade's MySky open-air roof with removable panels.
Jeep Comanche
Based on the Jeep Renegade, the Jeep Comanche concept vehicle is designed to be off-road ready with practical utility. A nod to Jeep pickup trucks of years past, the Comanche concept takes styling cues from military and civilian Jeep heritage. The Comanche's "Beige Against the Machine" concept exterior paint is accented with a Satin Black hood.
Jeep FC 150
A true American workhorse, this 1960 Jeep FC 150 concept vehicle is rich with heritage and built to tackle both challenging rocky trails and the harshness of a western cattle ranch. Originally built from 1956 to 1965, the FC 150 is based on the CJ-5.
Jeep Trailcat
The Jeep Trailcat concept vehicle is the ultimate off-road machine, equally at home on Moab's rugged trails or a high-speed section. Utilising the supercharged 6.2-liter HEMI Hellcat V-8 engine, and mated to a 6-speed manual transmission with a custom shifter ball featuring an embossed Hellcat logo.
Jeep Trailstorm
The Trailstorm concept vehicle is the ultimate Jeep Wrangler for exploring off the beaten path. Offering room for extra gear and fuel tanks, it is based on the Jeep Wrangler Unlimited, and delivers elevated capability to conquer trails with ease.
Jeep Brand
Built on 75 years of legendary heritage, Jeep is the authentic SUV with class-leading capability, craftsmanship and versatility for people who seek extraordinary journeys. The Jeep brand delivers an open invitation to live life to the fullest by offering a full line of vehicles that continue to provide owners with a sense of security to handle any journey with confidence.
Mopar Brand
Mopar (a simple contraction of the words MOtor and PARts) was trademarked in 1937 with the launch of an antifreeze product, but it truly made its mark in the 1960s during the muscle-car era. From Mopar performance parts to enhance speed and handling for both road and racing use, the brand soon expanded to include technical service and customer support.
Jeep Performance Parts
The Jeep Performance Parts portfolio, created in 2012 and offered by Mopar for the Jeep brand, provides enthusiasts with high-end, hard-core, quality aftermarket accessories and performance parts, including axles, lift kits, bumpers, winches, skid plates, suspension components and more.
Easter Jeep Safari
Easter Jeep Safari consists of trail rides, mostly day long trips, departing from Moab, Utah, throughout the nine-day-long event. The Jeep Safari was started in 1967 by the Moab Chamber of Commerce as a one-day trail ride. Over the years, as participation grew, the Safari expanded until it finally reached the current nine-day event. "Big Saturday" still remains the culmination of the event on the Saturday of Easter weekend.