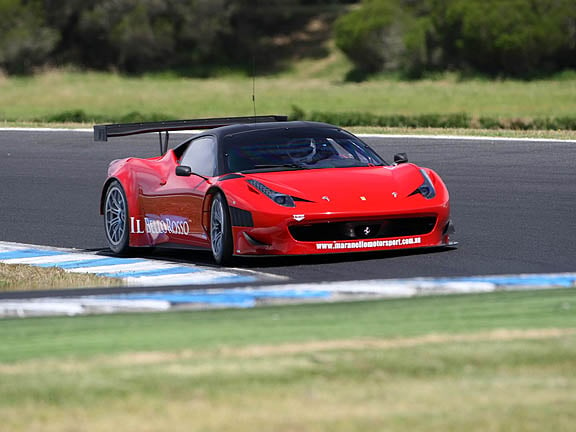 "It's impressive, I don't know how else to put it, it's great to drive, with massive amount of grip, comfortable and has unquestionable performance, a very well thought out race car, much more so than most," he said after driving the Ferrari 458 GT3.
The second test for the Michelotto prepared Ferrari 458 GT3 after it smashed the Bathurst lap record in December saw Bowe take it to the limits on the southern circuit, cementing confidence that the latest Maranello race acquisition is ready for the world stage.
"The 458 has a much nicer gear change than the previous Ferrari, a nicer brake feel, and it's got a lot more gizmos to work around, and so far I've only done a very limited amount which lends to a lot more to come," explained Bowe.
"I've done lots of miles in these sorts of cars, but not for a while, so what with a lot more grip than most cars because of the aerodynamics, you need to believe in the fact that it's actually going to go around the corners and pull up when all of your senses are saying that it won't."
"There are always some areas that I think we can improve on in terms of stability, but nothing drastic because overall it's an amazingly well prepared car which I'm definitely looking forward to driving at Bathurst."
Completing some 20 laps of the 4.4km circuit, Bowe used the sessions to get in tune with the Il Bello Rosso Ferrari GT3 and build his own confidence in its capabilities, some of which are well beyond his initial hopes.
The Il Bello Rosso Ferrari 458 GT3 will be taking part in the Armor All Bathurst 12 Hour Race, which starts at 06.15 am on Sunday 26 February following practice and a full range support races on Friday and Saturday 24 and 25 February. Full details of the event at Australia's legendary Mt Panorama race track in Bathurst are available from www.bathurst12hour.com.au. SPEED Australia, the country's only 24/7 Motorsport Network, will carry the final 90 minutes of the race live and exclusive immediately following the completion of their coverage of the Australian World Superbike round at Phillip Island, held on the same day.