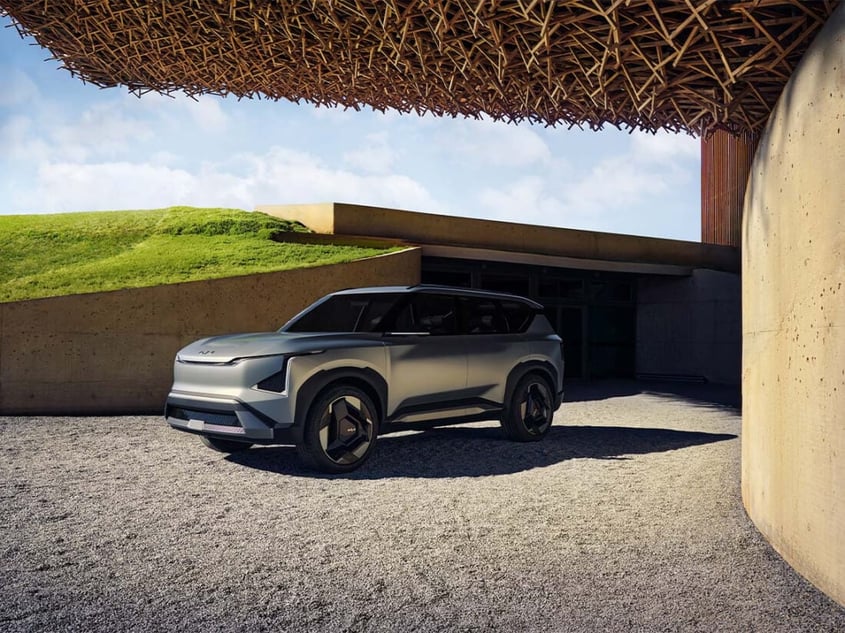 Kia has been building a reputation for innovation and quality, a fact clearly demonstrated by the recent launch of the EV9 in New Zealand. With the EV5 set to make its debut later this year, Kia has its sights set on cornering the compact SUV segment of the electric vehicle market. This is a move that will undoubtedly resonate with New Zealanders, especially those in urban settings who prioritise space-saving features and eco-friendliness. In the wake of the success of the Kia EV6, the EV5 is positioned as the compact sibling of the EV9.
Historical Context: Kia's Electric Journey in NZ
The arrival of the EV5 is particularly significant for New Zealand, where the EV market has seen exponential growth. Kia has successfully positioned itself as a front-runner in the Kiwi landscape with models like the Niro and Soul making notable inroads. The EV6, launched last year, was a testament to Kia's capability in marrying style with functionality and electric performance.
Exterior Design: Where Style Meets Substance
'Tiger Face' Grille: Kia's iconic 'Tiger Face' makes a reappearance here but in a more aggressive stance.
Star Map-Inspired Daytime Running Lights: A touch of astral elegance to your daytime commuting.
Silver Skid Plates: Positioned at both the front and back, these skid plates add a rugged look.
Muscular Quarter Panels: To give the car a sturdy appearance that underscores its solid performance.
Flat Rear End: A rather unconventional choice, contributing to the vehicle's aerodynamics.
Fun Fact
The 'Opposites United' design philosophy that has inspired the EV5's aesthetics is rooted in Eastern philosophy, specifically the concept of yin and yang.
Interior Design: The Living Space on Wheels
Panoramic Display: Features a dual-purpose gauge cluster and infotainment touchscreen.
64 Colours of Mood Lighting: Allowing drivers to personalise their in-cabin experience.
Rear Seats that Fold Flat: Maximising space for 'life stuff,' whether it's weekend camping gear or shopping bags.
Performance
The EV5 is expected to ride on Hyundai's Electric-Global Modular Platform (E-GMP). This platform, which prioritises low centre of gravity and weight distribution, is highly conducive to electric vehicles' specific needs. Given that the platform can support both rear-wheel and all-wheel drive configurations, we might see variants of the EV5 catering to different driving needs.
Safety Features
Adaptive Cruise Control: For maintaining safe distances on the motorway.
Blind-Spot Monitoring: To keep tabs on those pesky blind spots that are a bane to city driving.
Forward Collision Warning: Incorporating pedestrian and cyclist detection for urban safety.
Technology and Infotainment
State-of-the-Art Infotainment System: Expect an Android Auto and Apple CarPlay compatible system.
Connected Car Technology: Allowing you to check battery levels, control internal temperature, and even set charging times from your mobile phone.
Comfort and Convenience
Automated Climate Control: Adjusting temperature according to external conditions.
Heated Seats and Steering Wheel: For those chilly morning drives.
Keyless Entry and Start: Because convenience is king.
Driving Experience
While official driving tests are pending, if the EV5 follows the lineage of the EV6 and EV9, we can expect a smooth, almost intuitive driving experience. The car should offer excellent grip and stability, given its expected low centre of gravity and balanced weight distribution.
Maintenance and Ownership Costs
Although the official numbers aren't out yet, owning a Kia electric vehicle generally means lower fuel and maintenance costs but higher upfront costs. Kia's generous warranty schemes are expected to apply to this model as well, providing added peace of mind.
Technical Specifications (Expected)
Platform: Hyundai's E-GMP
Battery Capacity: To be announced
Charging: Fast-charging capabilities expected
Driving Range: To be announced
Seating: 5 persons
Cargo Space: To be announced
Price: To be announced
Final Thoughts
The Kia EV5 promises to be a compelling package that should make waves in New Zealand's burgeoning electric vehicle market. Its expected blend of stylish design, sophisticated technology, and electric performance could make it a hit among younger and more eco-conscious drivers. While some questions remain unanswered, what's evident is Kia's commitment to providing a diverse range of electric options to suit various lifestyles and needs.