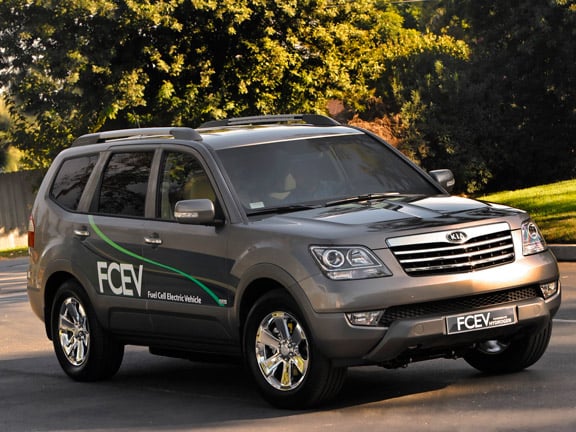 Korea's longest established car manufacturer Kia Motors has just released its latest environmental update, detailing the green initiatives derived from the US$2.25billion being spent by the company in research and development during 2012.
While Kia developed its first fuel-cell powered vehicle, based on a Kia Sportage, back in 2003 and has been trialing a Kia Borrego 4WD recently, the move to commercialise the technology still seemed some way off. But technical developments that have extended the range of fuel-cell vehicles almost to the same as a petrol-driven car and made it more robust in both hot and cold climates are also driving down the cost, to make it more affordable.
Fuel-cell vehicle development has centered on using hydrogen that creates electricity to power an electric engine, by-passing the need for expensive and heavy batteries. The Kia Borrego fuel-cell trials have shown that it is capable of travelling 640 kilometres on a tank of hydrogen, returning the equivalent of 5.2L/100km (54mpg). The only emission is water.
The major drawback with fuel-cells is that there is no distribution system in place anywhere in the world for motorists to readily purchase hydrogen, so Kia has joined other automakers to help establish the necessary framework. If distribution is in place by 2015, Kia says it has plans to build more than 10,000 fuel-cell vehicles a year in the initial stages, expanding to 100,000 a year shortly after.
It will still continue to develop all-electric and hybrid vehicles, as part of its strong environmental programme, which has seen Kia reduce its impact on the environment by a massive 44% since 2004. For instance, the volume of steel recycled by Kia globally in 2011 rose by 33% compared to 2010, thanks to more effective waste management.  This enabled Kia's Sohari and Hwaseong plants in Korea to produce no landfill waste whatsoever last year, helping to reduce Kia's global production of waste materials by 28% compared to the 2003 level.
Kia is set to increase the pace even further, announcing that it will increase its R&D spend next year to US$2.52billion – around 6% of its total sales revenue to ensure its production processes become even more eco-efficient and to accelerate the development of highly-efficient vehicles with low emissions.  At a Group level, more than 9,800 employees, including 30% of all staff recruited since 2010 are now engaged in research and development, according to Kia.
Todd McDonald, General Manager of Kia Motors New Zealand, says the investment level being made in R&D by Kia "continues to support the growth for the future".
"The typical level of R&D spend by other leading international companies is usually around 3%, so Kia is committing more than double the amount its peers are investing," says Mr McDonald.
"The result of such expenditure will be cleaner and more high-tech vehicles that will be seen on our roads and used by existing and future Kia owners."