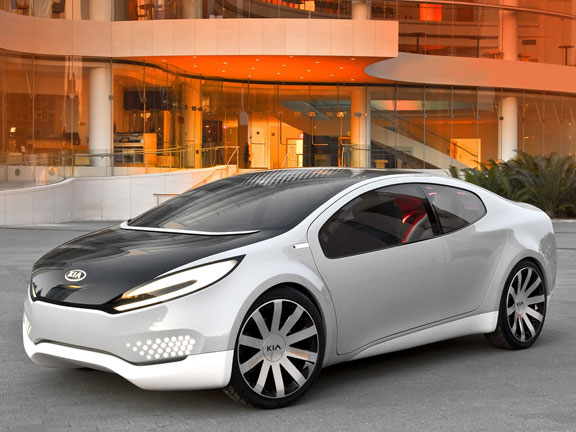 The Kia Ray concept, teased last month, is a futuristic plug-in hybrid that is targeted towards the eco-concious driver.
The four-seater reportedly has a driving range of 1200km and can travel 80km on electric power alone.
Powering the Ray Concept is a direct injection 153hp (114 kW) 1.4-litre engine mated to a CVT transmission in addition to a 78kW electric motor. Depending on driving conditions, power is routed to the front wheels via the petrol engine while the electric motor pushes the rear wheels, or both simultaneously.
"It is important to imagine early in the design process what people will want in the future from a green perspective. People want to reduce their carbon footprint without driving carbon copies," said Peter Schreyer, Kia Chief Design Officer.
"Being green doesn't have to be an obvious statement anymore and the Kia "Ray" exemplifies a viable blend of modern, eco-minded features for today's environmentally conscious consumers," he says.
The Ray Concept has a streamlined body for reduced aerodynamic drag, with a long tail with U-shaped deck lid which extends out from the rear at higher speeds for improved aerodynamics.
Technological features include touch-screen controls, drive-by-wire steering, "cool-glazing" solar glass and a lithium-polymer battery. Naturally, infotainment is handled by Kia's all-new UVO voice- and touch-activated controls.
The unveiling of the Kia Ray marks the launch of Kia's EcoDynamic sub-brand, which will distinguish Kia's most efficient models, but the Ray is not planned for production.