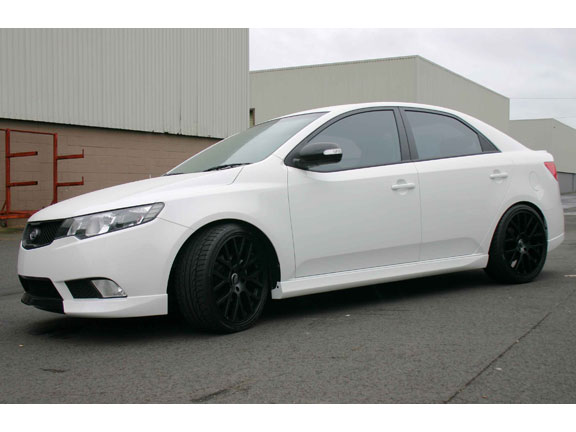 Developed especially for Speedshow '09 in Auckland, the four vehicles showcase "a younger and more vibrant image", says Todd McDonald, General Manager of Kia Motors New Zealand.
"We set out to create four individual cars with plenty of personality to show potential buyers what they could achieve with a bit of imagination," says McDonald.
A clear stand-out among the concepts is the Cerato Sports, which has caught the attention of the Kia Motors accessory division in Seoul. It aims to use the New Zealand creation as an example of how the four-door model could look.
The Cerato Sports is finished in white with black accented detailing and includes a genuine factory accessory body kit with afront chin spoiler, side skirts, rear upper and lower spoilers, along with 35% tinted windows.
This car also has lowered springs and sits on 19" Donnington matt black alloy wheels that are shod with 225/35 super low profile Dunlop SP Sport Maxx performance tyres.
We can expect to see similar versions of the Cerato Sports appear in international markets, says McDonald.
The Kia Soul Destroyer features a matt black paint finish and is based on the Soul Burner model. The Soul Destroyer's aggressive looks are courtesy of the graphics of the Grim Reaper and 20" black and silver alloy wheels on one side. The opposite side has 20" multi-spoke chrome wheels and an absence of graphics for a more sophisticated appearance.
It also features a wide body kit that includes front chin spoiler, side skirts, lower rear and upper spoilers, plus 35% tinted windows, red LED front indicators and tail lights that can be programmed to flash, and custom suspension springs.
Inside is a custom-made black leather and red hand-stitched interior, with additional thigh supports and bigger shoulders built in to the front seats to create a more supportive bucket seat shape.
"It's a real fun machine – a bit menacing on one hand, and thoroughly out there on the other," says McDonald.
The other two models include a Rio CRDi Sport concept with a vivid green metallic paintwork (a standard colour) dressed up in a Mobis USA body kit consisting of front chin spoiler, side skirts and rear lower spoiler, plus 35% tinted glass, contrasting with the black and silver 18" alloy wheels and 215/35 tyres. The custom lowered springs drop the body by 45mm.
The Magentis Sport concept doesn't have a body kit, but looks very classy in its platinum graphite colour scheme. It features custom performance progressive springs that lower the car by 35mm to create a sportier image, along with 35% tinted windows and 19" TSW alloy wheels on 225/45 Sport Maxx tyres.
Check out these hot models at Speedshow this weekend.