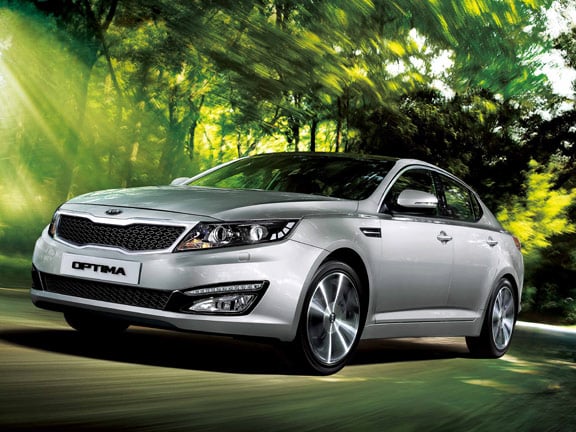 One of its current R and D goals is to make its cars 10% lighter than they are currently by 2015, which will lead to a whole raft of motoring benefits and savings.
Kia says a 10% reduction in weight would help boost fuel economy by 3.2% and cut emissions by the same amount. The vehicles will also become 1.6 times more durable, as key parts do not wear out so quickly, reducing wastage as well as saving money for vehicle owners.
There's even a bonus for enthusiastic drivers, since acceleration improves by 8.5% and there is a 19% increase in steering wheel maneuverability.
Technicians at Kia are researching a number of ways to cut weight in production vehicles, including the replacement of steel with aluminum alloys, resins and other lightweight materials – such as using adhesives instead of welding. Research into the use of lighter materials is focused on decreasing the thickness and weight of the materials while maintaining performance and durability. Cutting the number of parts through adoption of modules will also lead to reduced weight.
Some of the fruits of the research are already being seen in the latest models from Kia, such as the Optima sedan, which went on sale in New Zealand last year. The heating, ventilating and air conditioning unit was the first in Korea to be made of a high-strength plastic featuring 'glass bubbles'. Using this system, Kia saves more than 10% in weight compared to conventional HVAC units that are made with polypropylene.
The Optima's centre pillar is made of ultra-high strength steel produced by hot stamping, a method of reinforcing a given material by pressing it at a high temperature and then quickly cooling it. Using this type of steel in the Optima has reduced the number of parts and overall weight of the car, whilst also making the bodyshell stronger and more durable.
Kia has even found ways to reduce weight in the huge density of electrical wiring that runs through modern cars. Wiring looms in the newest Kia vehicles have been optimised to reduce complexity and they employ intelligent, electronic modules to ensure no loss of effectiveness.
One of the most significant methods of reducing weight is to replace larger and heavier engines with smaller more efficient power plants and Kia has been among the leaders in this move. One example is the recently introduced Kia Rio, which now has a 1.4-litre petrol engine in place of the previous 1.6-litre unit, yet the performance of the car has not suffered.
Both the Kia Optima and the Kia Sorento were previously powered by V6 engines, but the latest models have moved to four-cylinder power plants, which are more efficient and deliver much better fuel economy than their predecessors.
"Weight reduction in a car has a number of benefits, from savings in production costs, reduced fuel consumption and emissions, to improved safety and durability, and we are already seeing a number of these benefits in today's Kia models," says Todd McDonald, General Manager of Kia Motors New Zealand.
"The next generation of Kia cars will be even lighter and more sustainable."