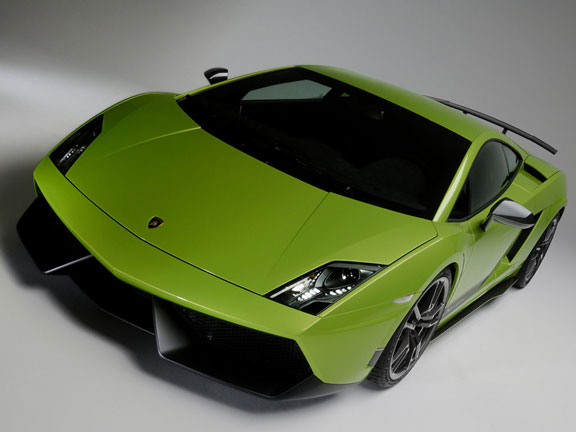 Compared with its sibling the Gallardo LP 560-4, the weight of the Gallardo Superleggera has been trimmed by 70kg, boasting a dry weight of around 1340kg – the lightest road-going model in Lamborghini's range.
A key factor in the weight reduction is the use of carbon fibre in the exterior and interior components. Lamborghini says this also helps the car's performance thanks to a better weight-to-power ratio and reduced total mass, which means that CO² emissions are also lower.
The V10 power unit with 5.2 litres of displacement reportedly generates 419 kW in the Gallardo Superleggera.
Lamborghini says the four-wheel-drive Gallardo LP 570-4 Superleggera will make the dash from zero to 100kmh in 3.4 seconds and flies past the 200kmh mark 10.2 seconds later, reaching a top speed of 325kmh.
The engine with "Iniezione Diretta Stratificata" petrol direct injection also features reduced fuel consumption and CO² emissions – 20.5% compared to the previous model, according to Lamborghini.
The Gallardo LP 570-4 Superleggera comes with the six-speed e-gear transmission operated via steering wheel paddles, as standard.
Dimensions of the new Gallardo are 4.39 metres long, 1.90 metres wide, and 1.17 metres high.
The designers from Lamborghini have remodelled the front bumper with large air intakes, a sharp V-shaped nose and LED daytime running lights. The new design increases the supply of cooling air and improves the downforce on the front axle.
At the back new sill elements and a redesigned diffuser incorporating four large tailpipes help to achieve better aerodynamic results. The Gallardo Superleggera sports a small rear spoiler as standard. A big rear spoiler is available as an option.
Inside, like the rest of the cockpit, the sports seats are clad in lightweight Alcantara instead of leather, and the cabin is equipped with air conditioning and electric powered windows.