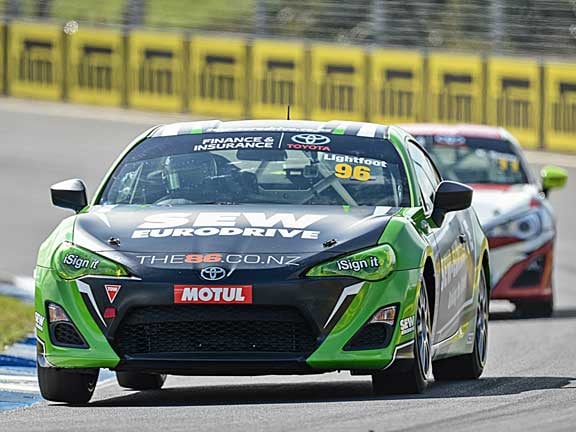 With a first Toyota 86 championship season completed in his SEW Eurodrive TR 86 race car, Lightfoot says he has an unrelenting focus on results as he prepares for the 2016-2017 Toyota 86 Championship.
Stepping out of the V8 ute for his debut season in the Toyotas last year, Lightfoot said, was a revelation. Racing on slick tyres, quality grids, on New Zealand's most challenging race circuits was 'incredibly exciting'.
"The Championship was intensely competitive from the very first practice session, and it took me a while to get to grips with the car. You really have to be dialled-in to these cars to get the best out of them – not easy when there are 20-plus other drivers all fighting for a podium placing at every round!"
Finishing a creditable eighth in that season was enough to hook Lightfoot and bring him back for a second championship. He says he was also drawn by the opportunity to be part of a comprehensive 'wrap-around' premier championship that includes professional race management, VIP hosting and technical support operations.
"No other series offers as much. The 86 Championship puts on a heck of a show on-track and behind the scenes it gives us a place to interact with our sponsors, we can offer our guests lunches in the Toyota Finance Paddock Club and there are hot lap opportunities so our guests can experience the excitement for themselves. The camaraderie among the drivers is fantastic."
Lightfoot says the $100,000 prize fund announced by Toyota two weeks ago is a huge boost for the series and can only raise the level of competition even further.
"I reckon we'll have full grids from the first round, and with a great TV package putting the action on-screen after every round there's going to be some superb racing," he said.
Competing in the Masters category, Lightfoot goes up against the ultra-competitive John Penny, category winner in 2015-2016. He says he has one aim: to challenge more drivers to join the fray and to line up against Penny in a battle for the Masters category win.
"The more drivers in the category, the faster we all go. That makes the racing even more exciting for everyone."