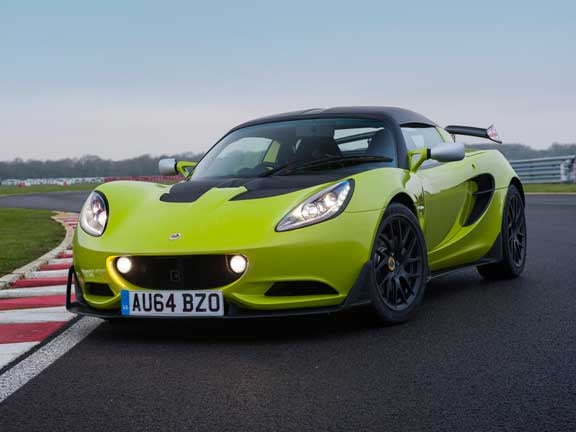 To enable the transformation from race to road the car, the Elise 220 cup has gained just 19 kg over the feather weight 924 kg of the racing car. This provides it with a 235 bhp/tonne power to weight ratio which, when combined with a new aero package that produces an additional 66 kgs of downforce at 160 kmh and 125 kgs at its 225 kmh top speed, enables the Elise 220 Cup to clip three seconds from the best lap time of the Lotus test track achieved by the Elise S.
"This is driving pure and distilled," says Glen Sealey, Chief Operating Officer of Lotus Australia and New Zealand. "The 220 Cup is derived from the racing car, not a development of the road car. This development track means the Lotus engineers took a racing car and made it road-legal, not taking a road car to make it 'like a racing car'.
"The result is a car that has the steering response, suspension control, engine reaction and instantaneous braking power of a racing car along with the ability to be driven home after a superlative track day. Given its supercar performance and true race car ability, its price is exceptional, considering how much more would have to be spent with other car makers to even approach the driving experience offered by the Lotus Elise 220 Cup."
To call the Elise 220 Cup 'tamed' would be wrong. While it is toned down from the Cup R model, it remains track-focused with the ability to drive home afterwards. One look at the 220 Cup highlights its attractive, yet purposeful aero package. From its front splitter, to its rear airflow diffuser, it is every inch the racer for the road. The lateral barge boards, fixed hardtop, engine cover, rollover hoop cover, side vanes and the rear wing are not only finished in black but also 'shout' racing car. Naturally, because it is a Lotus, the Elise 220 Cup features 'zero-lift' and the revised aero package increases downforce by 66kgs 160kph, increasing to an impressive 125kgs at V-max.
With the 1.8-litre engine, its induction supplemented by an Eaton supercharger, it means that the power is at an outstanding 162 kW. Select the first of the Elise 220 Cup's six, close-ratio gears and the forward motion is simply wonderful. Its 235bhp/tonne (238PS/1000kgs) enables a V-max of 225kph, yet its combined fuel economy is given as 7.5l/100km and CO2 emissions are only 175g/km. Lotus proves that sportscar ownership can remain both enticing and affordable.
Underpinning every Elise 220 Cup is the most efficient, structurally rigid and low weight extruded and bonded chassis-tub. Based on more than 60 years of racing car developments, its torsional rigidity remains outstanding. It allows the suspension to work most efficiently, to provide unparalleled grip, a comfortable ride and a dynamic balance that is unquestionably excellent. An electronic differential lock (EDL) helps to tame any over-exuberance (for which you will surely be forgiven), while Sport mode Dynamic Performance Management system enhances a track car for road intentions.
The Lotus Elise 220 Cup has a recommended retail price of $134,990 excluding dealer costs and delivery. It is available now to order from Lotus Auckland, New Zealand's Official Lotus dealer, in Newmarket, Auckland.