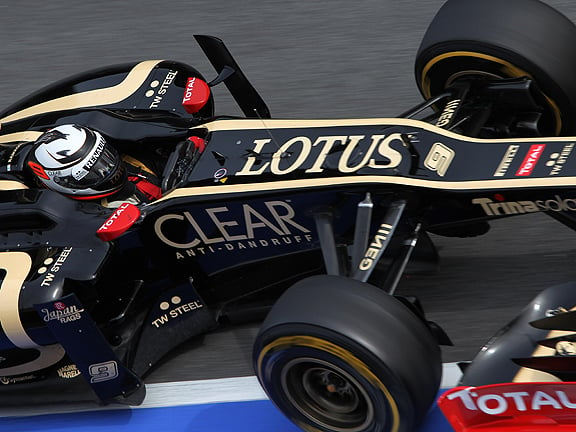 The Lotus Formula One Team and former world champion Kimi Raikkonen have upset the established Formula One order in the final day's pre-season testing before the Australian Grand Prix (18 March 2012) with the Flying Finn not only recording the fastest time of the day in his Lotus E20, but also setting the fastest time during the entire two week pre-season test session at Spanish Circuit de Catalunya near Barcelona.
"We'lll have to see what happens in Melbourne in a couple of weeks' time but I'm feeling positive," said Raikkonen, who won the Australian Grand Prix in 2007. "I was happy with today's running. We didn't have any major issues so it was certainly better than yesterday. Everything worked, we tried a lot of set-ups on the car and it all came together well. It was a long time in the car today but I feel fine. It was cooler so the tyres didn't work as well as otherwise but everything was okay. Of course, the fastest time at the end of the day looks good but no-one will know how fast any of the cars are until we get to qualifying at Albert Park!"
Speed is nothing without reliability so not only was Raikkonen's 1 min 22.030 secs lap the fastest set over the two weeks testing at the 4.7 km circuit, it is also significant that he also completed the greatest distance, with 121 laps.
"We are in good shape heading to Melbourne," says Alan Permane, Lotus F1 Trackside Operations Director. "We've completed two race distances and the Lotus E20 has proved reliable, easy to set-up and predictable in its handling with both drivers reporting they are happy. We've had a good, productive day to conclude our pre-season test programme. After the interruptions of yesterday we made some set-up changes overnight which immediately made Kimi feel more comfortable in the car as the balance was much more to his liking. We then spent the rest of the morning running on medium and then soft tyres, steadily improving the car."
Raikkonen, who won the Australian Grand Prix and the Formula One World Championship in 2007, returns to Formula One in 2012 after a three year break from Formula One to pursue his passion for rallying. The 32-year-old Finnish driver took pole position and set the fastest lap in the 2007 Australian GP, his best result in the AGP. In 2002 he finished in third place and was third again in 2003, second in 2006, and eighth in 2008.