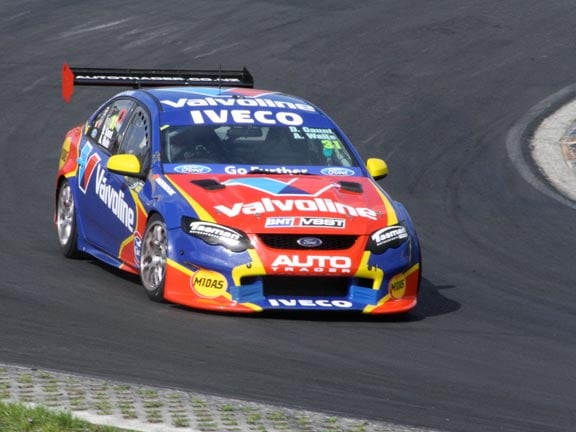 Drivers Daniel Gaunt and Andrew Waite aboard the Valvoline Ford had started the weekend well, collecting a 3rd place in race 1 and a 5th place in race 2, gathering valuable points for the team's championship.
Starting the final race of the weekend, the Valvoline Ford with Andrew Waite behind the wheel started from the second row of the grid in 3rd position.  From there, and half a lap after the race start, the weekend ended in dramatic fashion for the team, when an out of control Johnathon Webb speared across the track into the side of an innocent Waite, taking the Valvoline Ford out of the race.
The team now faces a race against time off the track to get the car ready for the next round of the championship in just three weeks time.
"The car is quite badly damaged, with it needing quite a lot of structural repairs before being able to race again," says Gaunt.
"It was quite disappointing for not only Andrew and myself, but the whole team. We had a mega car all weekend, we qualified well and raced well. Another podium in that final race would have secured us the round win and the enduro championship lead."
"We'll get the car back in shape, regroup and come back stronger at the next round. We learnt a few things that weekend, that we can apply at the next event – also at Hampton Downs."
Waite was equally as despondent.
"You can do your best to stay out of trouble in these longer races, but sometimes trouble just comes and finds you anyway," says Waite.
"All we had to do in that last race was maintain position, bag some points and we would have come away with a solid result. I've had a look over the car back at the workshop and there is quite a bit of damage. It will need new door bars and chassis rails down the right hand side and a few other bits. The pleasing thing is the car can be fixed, and we'll come back better for the next round."
The Tasman Motorsports Group Valvoline Ford is supported by IVECO Trucks, Autotrader.co.nz, Midas, BOC and Colin Waite Panel Beaters.
Round 6 of the 2013 BNT V8 SuperTourers Championship will be held at Hampton Downs, September 19-20