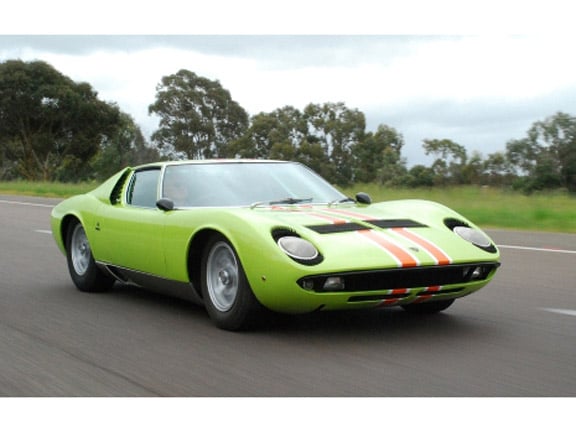 With 30 cars and six motorcycles totaling an estimated $5 million in value, the auction comprises a sales roster of consignments equally as impressive as the event's International Concours d'Elegance.
Highlights of the auction include:
*  1969 Lamborghini Miura S, first owned by the iconic supermodel "Twiggy." This rare factory right-hand drive example has covered less than 29,000 miles. Lime green with orange-white stripes it was custom painted for Twiggy, as authenticated by Automobili Lamborghini documentation. It has been in the possession of its current owner for 34 years.
*  1937 Bugatti Type 57, which has covered just 53,000kms. This car is incredibly original with marvellous provenance and has been in its current ownership since 1966.
*  1963 Aston Martin DB5, with metallic 'olive martini' paintwork and black leather interior. In amazing original condition, this vehicle was previously owned by the Chairman of the Aston Martin Owners Club before being on show as part of the James Bond display at the world famous Sinsheim Museum in Germany.
*  1959 Maserati Tipo 61 (Birdcage) Recreation, formerly the property of well known US driver Don Orosco. This vehicle is a stunning replica by Crosthwaite and Gardiner of one of the greatest sports cars of all time. It comes complete with FIA papers.
*  1967 Elfin 300, fitted with Jim Clark Team Lotus F1 Coventry Climax Engine. This car was one of the most successful sports cars in its class winning outright 11 races from 11 starts between 1968 and 1969.
*  1958 Jaguar XK150 Roadster, believed to be the oldest surviving example of its kind, complete with Heritage Certificate.
*  1908 Mercedes 35 hp, thought to be the oldest surviving shaft-driven Mercedes in the world.
*  1987 HDT VL Director, one of the most important, unique and highly original cars ever built by the legendary Peter Brock. One of only 12 examples built, this vehicle is in original and pristine condition having travelled just 13,000 kilometres.
The auction will play a central role in the 2012 RACV Motorclassica, which will be held at Melbourne's Royal Exhibition Building from 26-28 October. Manheim will join forces with event organisers to showcase an impressive range of classic vehicles. The roster will be on display throughout the three-day event, prior to the auction taking place on Sunday 28 October at 2pm.
RACV Motorclassica Event Director Paul Mathers said: "We believe this partnership will be the start of a beautiful friendship. With over 50 years of experience, Manheim is the Australian market leader in the provision of automotive auction services. It seems fitting, therefore, that they should partner with Australia's premier historic car show for their first foray into the classic car market. We look forward to working with the team and are certain their widespread expertise will ensure the absolute best prices for the cars being sold."