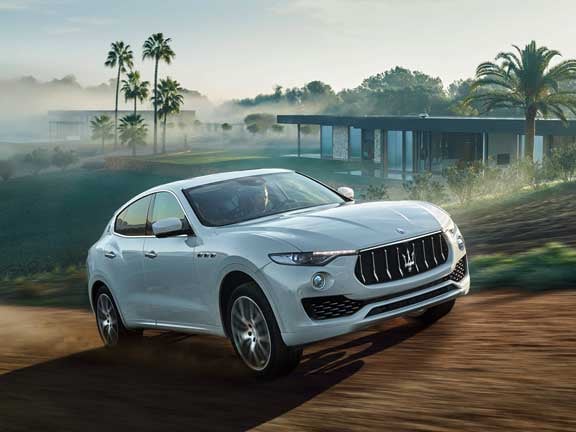 As with many Maseratis from the past, the new car's name is inspired by a wind: the Levante is a warm Mediterranean wind that can change from a light breeze to an irresistible natural force in an instant, mirroring the character of the first Maserati SUV.
The Levante is the ideal complement to the Maserati range. Combined with the Quattroporte, Ghibli, GranTurismo and GranCabrio, the range now covers the entirety of the global luxury automotive market.
Design, exclusivity and performance are the key characteristics for describing this new Maserati. Distinctively Italian in style, with breathtaking and iconic Maserati design features.
The interior has been created with the finest materials, most exquisite to the touch, from optional premium leather to Ermenegildo Zegna silk, made in Trivero by the Zegna wool mill with a patented process.
The spaciousness of the interior, enhanced by the panoramic electric sunroof, is combined with coupé-sleek external lines and the best aerodynamic efficiency in its category with a Cx coefficient of just 0.31.
The new Maserati SUV is based on the Quattroporte and Ghibli architecture, further evolved and refined to meet the expectations of this market segment, in which Maserati will compete for the first time.
The technology applied to every Levante is designed to offer outstanding performances both on- and off-road. Sophisticated suspension – double-wishbone on the front axle and multi-link on the rear, combined with electronically controlled damping, four corner air-springs providing five dynamic ride levels (plus one additional park-position), play an essential role in the car's handling.
Furthermore, with the lowest centre of gravity in its class, perfectly balanced weight distribution (50-50) between front and rear, high levels of dynamic torsional and flexional stiffness, and a mechanical self-locking rear differential as standard, when driven on-road, the Levante delivers all the performance and emotion typical of every Maserati.
The Levante will be launched in Europe this coming May, and is set to arrive in Australia and New Zealand in early 2017.