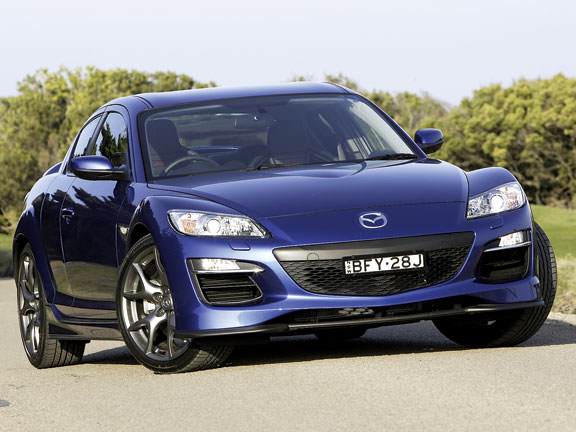 The RX-8 is unique among sports coupes in having rear-hinged rear doors, and total worldwide sales topped 170,000 in April 2008.
The company has produced 1,981,283 rotary engines from the first in 1967.
Mazda has sharpened the RX-8's exterior styling, and made changes to the interior to improve useability and refinement.
The engine has been modified to bolster low- to mid-range response and high-end thrills.
Suspension modifications hone the RX-8's already impressive handling and balance.
Luxury models now have a sunroof, leather trim and a Bose sound system, developed jointly by Mazda and Bose.
Major engine modifications improve low-end pulling power and smoothness.
The Renesis1.308-litre rotary engine's output of 170kW at 8200rpm with the six-speed manual gearbox is unchanged. The unit in the six-speed Activematic gets a 17kW power boost, to 158kW at 7500rpm.
Peak torque is now 211Nm at 5500rpm on both versions; previously the auto developed 220Nm at 5000rpm.
The six-speed manual has been adopted from the MX-5 roadster, and has ratios fine-tuned to better suit the rotary engine's characteristics. The final drive is now shorter (4.777:1 instead of 4.444:1).
Suspension revisions sharpen the RX-8's reflexes and deliver more compliant ride.
External dimensions, interior space and comfort are essentially unchanged.
The car is now more aerodynamic, with a coefficient of drag of 0.30, down from 0.31.
The fuel tank increases by four litres to 65 litres for greater touring range.
See all used RX-8 cars for sale