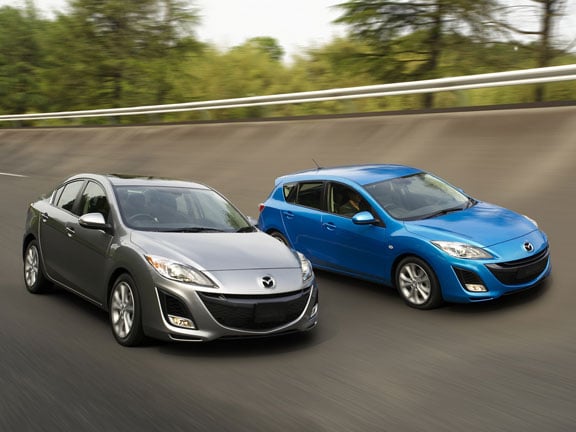 The rating system is more stringent for 2009, with four key areas tested: Adult Occupant Safety Performance, Child Protection Assessment Test, Pedestrian Protection Assessment Test and Safety Equipment.
"The rating given by the European New Car Assessment Programme means the Mazda3 is one of the safest cars available in today's market," said Andrew Clearwater, Managing Director, Mazda New Zealand.
"We place great emphasis on producing safe vehicles that are also stylish and fun to drive. This was demonstrated again earlier this year with the Mazda6 also receiving a 5-star rating from the new Euro NCAP evaluation system. The Mazda2 received the top 5 star rating under the previous rating system in late 2007," said Clearwater.
The Mazda3 was also recognised as a 2009 Top Safety Pick from the US Insurance Institute for Highway Safety and has been named Canadian Car of the Year 2010 – Best New Small Car, the Malaysian CIMB Preferred & Getacar's Best Junior Sports Saloon for 2009 and Scotland's Best Family Car 2009.
Mazda was also recently awarded the 2009 Automotive Researchers' and Journalists' Conference of Japan (RJC) Technology of the Year award for its unique idling stop system – i-stop. The i-stop technology reduces fuel consumption by automatically shutting down the engine when the car stops in heavy traffic and instantly restarts the engine before the car moves again.
The Mazda3 has proven to be popular in New Zealand with local buyers and consistently features in the Top 10 selling models every month since its April launch.
Other Mazda vehicles to receive international accolades this year include the rotary powered RX-8 which received Malaysian CIMB Preferred & Getacar's Best Four Door Coupe for 2009 and the MX-5 roadster, which not only celebrated its 20th birthday but took home the Australian Wheels Gold Star Cars Awards' Best Sports Roadster under $150,000.
See the Mazda3 for sale here.