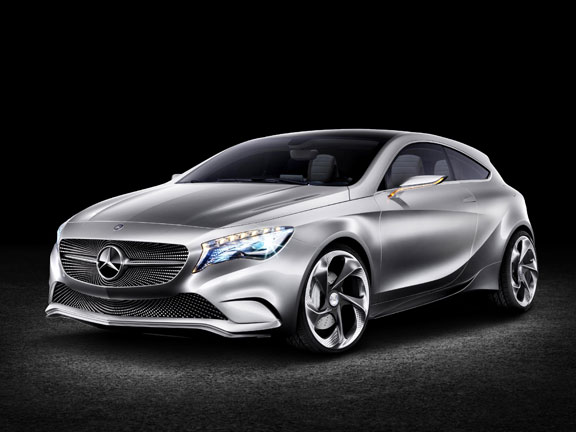 Highlights of the Mercedes-Benz A-Class concept include a new, turbocharged four-cylinder petrol engine, a dual clutch transmission, and a radar-based collision warning system with adaptive Brake Assist.
Designed with influence from the wind, waves, and aviation engineering, the new A-Class features a long bonnet, low silhouette, and sweeping curves.
Inside, the dashboard is a stand-out, in the shape of an aircraft wing with a translucent, stretchable textile lining which allows the workings of the structure to be seen underneath.
And, Mercedes says the shape of the air vents in the dashboard is also reminiscent of a jet aircraft engine. The displays in the instrument cluster are in red, inspired by the afterburner of a jet engine. The central control unit is designed as a modern flight panel, with the shift lever taking the form of a "reverse thrust control".
The A-Class concept is a front-wheel drive model powered by a four-cylinder petrol engine from the new M270 series. It was designed for transverse installation, and thanks to direct injection and turbocharging, Mercedes says it will offer high performance potential together with minimal emissions and enhanced fuel consumption.
The A-Class concept is equipped with the two-litre variant of the new engine, developing 210hp. This BlueEFFICIENCY unit is combined with the new Mercedes-Benz dual clutch transmission.
The concept car features a radar-based collision warning system called Collision Prevention Assist, which gives a visual and acoustic warning to a possibly inattentive driver, and prepares Brake Assist for a "precise braking response". This is initiated as soon as the driver emphatically operates the brake pedal.