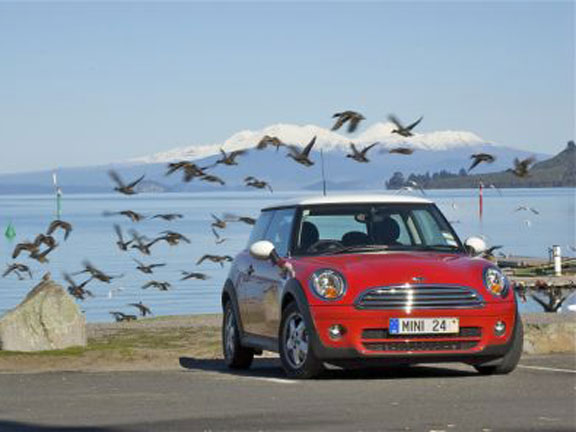 The aim of the Mini's journey is demonstrate the importance of 'eco-driving' as a means of reducing New Zealand's transport related emissions.
Mark Whittaker, founder of ecodriver, a company specialising in fuel economy training courses, together with motoring journalist Paul Owen, will attempt the record in a standard production 1.6-litre turbocharged Mini Cooper D.
The pair aims to cover the 2000+km distance, using an average of three litres per 100 kilometres of fuel through a combination of the Mini's fuel-saving technologies and their own 'eco-driving' techniques.
With a factory-quoted fuel economy figure of 3.9 litres per 100 kilometres, the Mini Cooper D shares the title of New Zealand's most fuel efficient vehicle with the Toyota Prius hybrid.
Whittaker said the point of the exercise was to demonstrate how technology and driving techniques can combine to achieve incredible fuel economy and low emissions.
"When it comes to emissions, what you drive is extremely important, but driving style can also make a difference of as much as 30 percent," said Whittaker.
"Whether you're doing it to save money, or save the planet, we can all benefit from learning to drive more efficiently," he said.
The challenge is supported by the Energy Efficiency and Conservation Authority (EECA), which promotes fuel efficient travel.
"Our latest research shows that, in spite of the average car's fuel bill being around $2200 a year, 61% of people aren't driving to make the most of each tank when they drive – they're wasting fuel when they simply don't need to," says EECA Chief Executive Mike Underhill.
Timed to coincide with the United Nations Climate Change Conference in Copenhagen, the Ecodriver Mini will set out from Cape Reinga on 7 December and is expected to reach Bluff five days later.
Mark Gilbert, Managing Director of BMW Group New Zealand, which also owns Mini, said he hopes the Ecodriving record attempt will highlight the improvements that can be made in passenger car emissions in New Zealand.
"In Europe, where vehicle emissions regulation is commonplace, the BMW Group is the industry leader in reducing emissions. In the absence of any similar legislation here, we want to show that a combination of the right car and the right driving style can make an enormous contribution to the daunting task of cutting New Zealand's total emissions by 10 – 20 percent," said Gilbert.
See the Mini Cooper D for sale here.