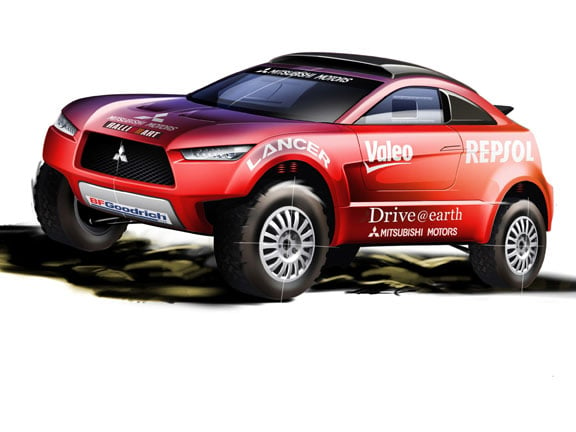 Mitsubishi Motors Corporation (MMC) has announced its next generation racer – the "Racing Lancer" – re-launching the Lancer's racing career.
The 2009 Dakar Rally in South America will be its debut performance.
Blending Lancer prowess with Pajero epics, the result is a cross-over between on-road and off-road rallying as well as applying to passenger cars and SUVs.
Sporting a silhouette inspired by the recently previewed Lancer Sportback 5-door hatch, Racing Lancer will support Mitsubishi's offensive in the passenger car sector, much like the Pajero Evolution in parallel to the production Shogun in 2006.
The Racing Lancer will become MMC's key ambassador for diesel technologies. Mitsubishi's long recognized expertise in engine development as a pioneer in clean emissions, balancing shafts, turbo-charging, and direct injection since the 1970s has again been mobilized to create a diesel engineering centre of excellence within the Company covering a wide range of diesel powertrains.
From the all-new 4N13 Euro V 4-cylinder engine to be launched in 2009 to Racing Lancer's 3.0 litre turbo-charged V6 diesel race engine, all will share the same fundamental know-how and the same essential low fuel consumption and low emissions 'green benefits' of Mitsubishi's diesel technology. The engine is currently finalising development on qualifying rounds of the 2008 Dakar Series and the 2008 FIA Cross-Country Rally World Cup.
MRX09 is Mitsubishi's new codename for its latest cross-country rally challenger. It features a new, multi-tubular steel frame which has benefited from advanced Computer Aided Engineering analysis with a view to optimizing the layout and dimensioning of the tubing.
The carbon-fibre bodywork of the MRX09 is redolent of the Lancer Sportback, and will come equipped with the same 4WD system, drive train, suspension and brakes – following their modification in accordance with the new technical regulations and as a function of the characteristics of the diesel turbo powerplant.
Technical Specifications
Overall length:        4,475mm
Overall width:         1,990mm
Wheelbase:           2,900mm
Track (front/rear):  1,750mm/1,750mm
Weight:                   1,900kg
Engine:                   2,997cc V6 turbocharged diesel Maximum power: more than 190kW (260hp)
Maximum torque:  more than 650Nm (66.3kgm)
Transmission:        Ricardo five-speed sequential, manual 4WD system: permanent four-wheel drive with limited slip central differential
Target – Dakar 2009
Racing Lancer is a Super Production Cross-Country Rally car, which has been developed in compliance with the FIA's Group T1 regulations (modified cross-country rally cars). It also complies with the new rules due to come into force in 2010.
Supported by the highly successful trial period of the new engine, already raced several times with Pajero Evolution over the last months, Mitsubishi Motors is confident that the Racing Lancer will be a major player at the 2009 Dakar rally.
The Dakar race itself will break new ground next year with a switch from Africa to South America, just as Racing Lancer will itself mark a new start for Mitsubishi Motorsports.