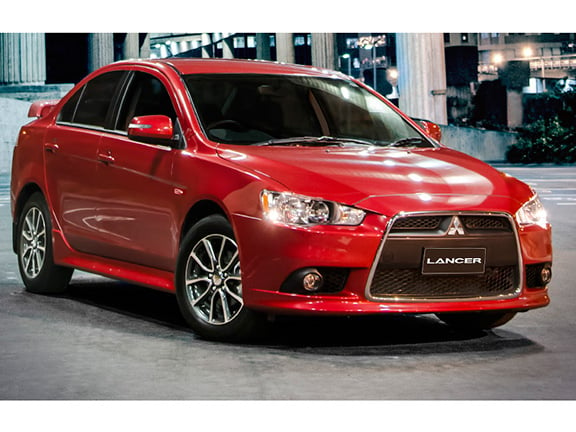 This long-term success looks set to continue with the release of an even more attractive 2015 line-up, led by the 2-litre high-spec rally-inspired GSR model, with a still-sharper look enhanced with new black, machine-finished 16 inch alloys.
"Lancer sedan's persistent popularity with private buyers speaks volumes about the car", says Daniel Cook, Mitsubishi's head of sales and marketing strategy.
"These mums and dads or small business owners are spending their own hard-earned cash and in return they want quantifiable day-by-day benefits: a rewarding drive quality, a high level of refinement, the best safety levels you can get, and exceptional value – from purchase price to frugal 7.3L/100km economy to the country's best new car warranty".
"GSR continues to be a synonym for great driving" says Daniel Cook. And unquestionably, he adds, there's plenty to be had with its 2-litre 115kW Smart-MIVEC engine and advanced sports mode-equipped six-speed CVT transmission.
The GSR sedan's $25,990 selling price – described by commentators as "best 2-litre value" – continues into 2015, opening the door to sporty, economical driving for more and more Kiwis: not to mention the "mod cons" such as six-inch touch screen audio, reversing camera and climate control air conditioning, with audio and Bluetooth fingertip-controlled from the leather-covered steering wheel.
The 2015 Lancer sedan range also embraces the roomy, well-equipped LS model, replete with everything from Bluetooth connectivity to seven airbags and the array of active and passive safety systems that underpins Lancer's 5-star safety rating.
Further safety enhancements now include door-mirror-mounted turn indicators and the ESS function that activates the hazard warning lights in emergency braking above 55km/h.
Then there's the luxury, leather-upholstered SEi, with the clean, classic good looks that – along with refinements such as rain-sensing wipers, dusk-sensing headlights, heated front seats and auto-folding rear view mirrors – have won so many friends.
Of course, there's also a full Lancer hatch stable that inherits all the GSR, SEi and LS qualities, plus a capacious boot area that becomes enormous when the rear seats quickly fold away.
Browse Autotrader's range of Mitsubishi Lancers for sale.