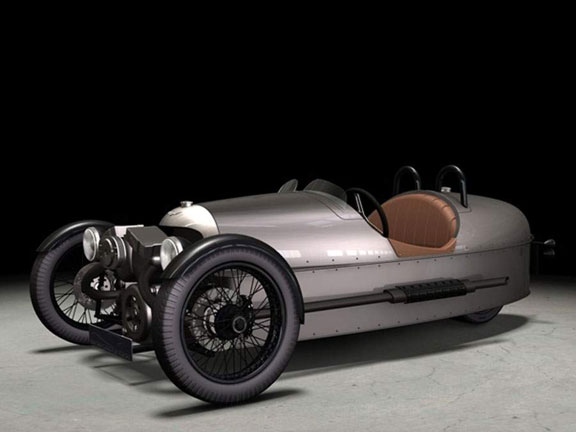 Inspired by the successful three-wheeled cyclecars of the early 1900s, Morgan will build around 800 of the 2011 Threewheeler, due to be launched at the 2011 Geneva motor show.
The new Morgan Threewheeler will feature a Harley-Davidson 1800CC 'Screaming Eagle' V-Twin engine that produces a reported 100hp. A Mazda5 five-speed gearbox. will feed the power to the rear wheel. 
The Threewheeler goes from 0 to 60mph (96kph) in 4.5 seconds and has a top speed of 115mph (185kph).
The interior of the Threewheeler is built to resemble the cockpit of an airplane, according to Morgan. The seats, the dash, side pads and steering wheel are covered in leather. The dash panel has aluminum toggle switches like those found in airplanes and a "bomb release"-style start button.
The exposed engine sits in front of a bullet-shaped hull that protects the passenger compartment. Further protection comes from a tubular frame and two rollover bars located behind the driver and passenger seats.
Like its predecessor, the Threewheeler includes an exposed, side-mounted exhaust.
Morgan says the new Threewheeler provides a "get in and drive" simplicity, and will be offered in eight exterior colours.