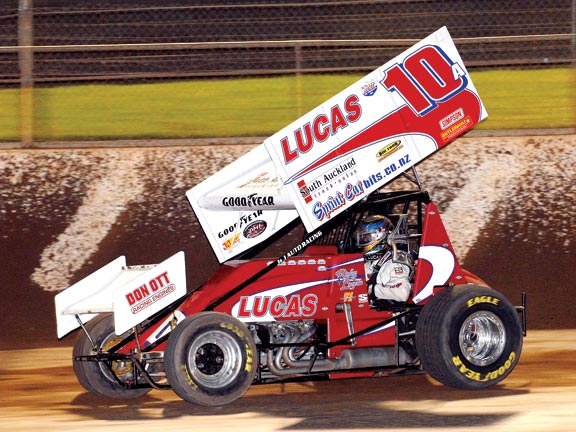 American Ricky Logan, driving for Keith Simpson, won both the New Zealand Sprint Car Grand Prix and the annual Gold Cup race at the Ruapuna Powerbuilt Speedway, Christchurch, last weekend.
When the Grand Prix was postponed the previous weekend, several North Island drivers had to return home to meet other commitments, but the field still included some top names, including Logan and the Ruapuna contracted Americans Steve Buckwalter and Jim Siegel.
The most significant development from the three qualifying heats was the retirement from the Grand Prix of eight times national champion Allan Wakeling.
Wakeling's borrowed car blew a head gasket and left him on the sidelines until the Gold Cup feature, where he drove a car lent by local racer Daryl Wright.
Logan and Kerry Jones top qualified during the Grand Prix heats, each gaining 27 points from a maximum of 30.
Next up were a very racy Dean Brindle and current New Zealand Champion Carl Wilson, followed on the third row by Phil Game and Siegel.
There was mayhem at the start when Jones appeared to get a flyer from his outside front row slot and the green lights didn't come on.
The yellows blinked as the cars raced on to the back straight and in the confusion Ron Salter and Kevin Freeman's cars touched and both rolled.
Officials initially ruled that Jones should start from the back of the field, but the eight-time New Zealand Champion remonstrated with them and was allowed to take up his outside front row slot again "under protest.''
Jones again got the better start, but after a yellow as Karen Forsey spun in turn two, Jones got crossed up between turns one and two and Logan, Brindle, Wilson and Siegel all got by.
Two laps later Forsey again spun in turn two and was relegated to the infield. After the caution period, Brindle really started to put the pressure on Logan, running the high outside line where a low cushion had developed between turns one and two.
Twice Brindle used the move to slingshot by Logan on to the back straight, but each time there was a yellow caution period to retrieve a spun car before the lap was out, meaning that Brindle had to revert to his former position.
On one of the restarts, Siegel, who was driving the wheels of his loan car, managed to get by Brindle to take second.
About four laps later Brindle flew into turn one and used the drive from the outside line to power through the narrowest of gaps on the exit of turn two and take second back from Siegel.
Brindle closed the gap on Logan, and the crowd roared their approval each time it became obvious because of his corner entry speed, that Brindle was about to try an outside pass on Logan, but Logan had the move covered.
Pressing on as hard as he could, Siegel spun in turn two with a couple of laps to go, executing a donut to the delight of the crowd but dropping to fifth behind Phil Game who had held on well in a battle with Buckwalter and Wilson.
Logan won from Brindle, Game, Buckwalter, Siegel and Wilson.
Logan said after the race that the level of performance of the top four or five New Zealand drivers has lifted "phenomenally'' in the last five or so years and that there were more drivers yet in the "chasing pack.''
Brindle said that he had set up the car to be fast in turns one and two, but had had to sacrifice something in turns three and four to achieve that.
Most of the large crowd stayed on for the Sprint Car Gold Cup, which has become an annual event on the Ruapuna calendar.
Jones and Wilson started off the front in the Gold Cup race and Jones initially appeared to have what it took to hold off a strong American challenge from Siegel, Buckwalter and Logan.
When Siegel spun in turn four, he punctured the right front tyre and had to withdraw to the infield. Buckwalter had a damaged front wing removed during the resulting yellow.
At the restart Jones held sway at the front with Buckwalter continuing at a seemingly unabated pace sans front wing and issuing frequent challenges to Jones while Logan and Brindle closed to make it a quartet.
Brindle was using his favoured outside line again, and he used it to get by Buckwalter and then Jones in traffic.
Jones' car set-up appeared to be going away and Buckwalter and Logan were soon edging away from him.
Brindle was fairly flying in clean air out front, but then Logan began closing in traffic and when Brindle ran wide in turn one, Logan slipped by on the inside and Brindle couldn't fight back.
In an amazing drive without the front wing, Buckwalter slipped back from the front two but held on to third, while Wakeling was equally impressive driving very tidily with the borrowed Maxim to get by Jones and Game to finish fourth.
Logan said he enjoyed the tussle with Brindle, and believed that it was only his extra experience racing in traffic that had provided him with an edge.
Buckwalter, who races with the Pennsylvania Posse, said that the week's break caused by the rain-out the previous week had enabled him and Siegel to complete a lot of work on their locally-provided cars. He said he would be keen to race in New Zealand again next season, but would bring his own car if he does.