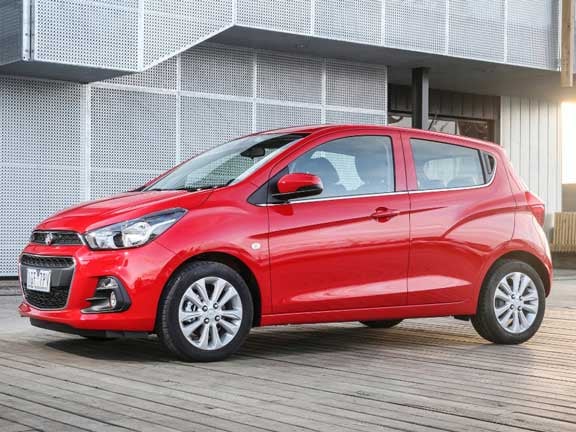 Boasting a seven-inch colour touchscreen with the latest Holden MyLink infotainment system, Holden's most affordable vehicle is designed to integrate seamlessly with customers' lives.
Sophisticated Apple CarPlay and Android Auto technology is available across the entire Spark range allowing customers to project a simplified version of their smartphone screen onto the car's colour touchscreen. Complemented by Siri Eyes Free and voice recognition software, drivers can give verbal commands ensuring their hands never have to leave the wheel, and their Spark becomes an integrated part of their lifestyle.
Top of the two-variant range, Spark LT comes equipped with convenient keyless entry and push button start technology, avoiding the daily stress felt by drivers rummaging for keys at the bottom of their bag.
Despite a new design and range of advanced technology, Spark continues to provide customers with exceptional value for money with prices starting at just $14,990 driveaway.
Holden's Executive Director of Marketing, Geraldine Davys, said Spark's array of advanced connectivity features allowed it to perform as an extension of customers' busy and social lives, whilst being accessible and well-priced.
"Spark's customers are a very social and connected group. They expect technology to work seamlessly, and that's what Spark delivers," said Ms. Davys.
"Spark's combination of the intuitive Apple CarPlay/Android Auto phone projection system and voice recognition software allows customers to continue their communication with friends or listen to music whilst enjoying their drive.
"With all of Spark's technology at drivers' fingertips, they are able to stay seamlessly connected and entertained wherever they choose to explore."
"Spark is a car for people who are choosing based on content, looks and performance, not just budgets. That said, we're proud to be able to offer this incredible range of technology placed into an all-new car, to customers with prices starting at just $14,990 driveaway."
Spark's premium feel extends from its impressive range of technology to its attractive interior design, thanks to luxurious Sportec seating, a leather-wrap steering wheel and chic white accented interior trim, all available in the stylish LT model.
Complementing its bold exterior design and ensuring it stands out from the crowd, daytime running lamps and a rear roof spoiler provide an urban sports flavour to support Spark's lively and agile performance. The top-of-the-range LT builds on the base design, boasting chrome accented grilles and window sills, in addition to 15-inch alloy wheels to give Spark a strong road presence.
For customers craving an extra dose of personalisation, the Spark range comes with a number of specially designed genuine accessories. Designed to a simple '1, 2, 3 step' strategy, customers first choose their wheels and inserts, followed by their colour theme, before ending with their interior options.
Holden's general manager of accessories Steve Manson said Spark is the one of the most customisable Holdens ever and with the option to change mirror scalps, spoiler and wheels, customers can really make this car their own.
"We've developed an exciting range of accessories to further enhance Spark's appeal and an easy way of allowing customers to build up their car," Mr. Manson said.
"Our 1, 2, 3 step strategy is a really easy way to make sure the options customers select work well together to give them the overall look they like and allow them to really express themselves.
"Our full accessory range includes everything from visual additions such as alloy wheels with coloured inserts to more functional items like bonnet protectors and floor mats. It adds another dimension to an already distinctive and sleek city car."
The all-new Holden Spark will go on sale at Holden dealerships across Australia from April 2016.