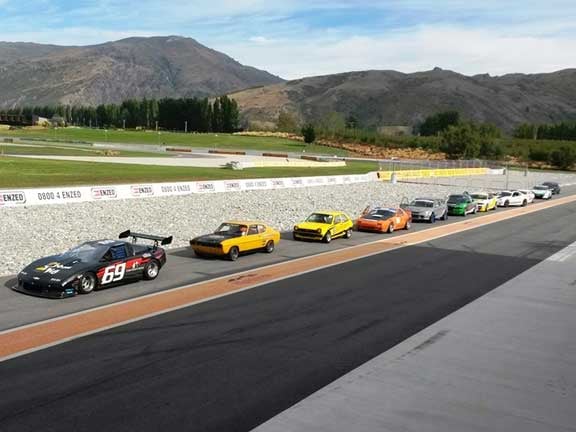 Around 40 competitors from Queenstown, Cromwell, Wanaka, Alexandra and the wider Central Otago region took advantage of the opportunity to participate in the first club-level, grassroots event organised by the team at Highlands Motorsport Park.
The first of three one-day Highlands Sprint Series events kicked off with an official test day took place on Friday to allow competitors who'd never driven on the Highlands circuit to familiarise themselves with the combined A and C track format.
Mike Sentch, Highlands' general manager, says the idea of creating a short race series open to competitors of all levels came from the competitors themselves.
"Many Kiwi competitors who aren't eligible to compete at our higher profile events like the Highlands 101 were keen to have a go at racing at Highlands and that's why we've created the Highlands Sprint Series, run under the auspices of the Highlands Motorsport Club. The new Sprint Series gave the predominantly-local competitors the chance to experience the circuit, the atmosphere and racing without the pressure of a full-on, door handle-to-door handle competition."
Sentch says he was pleased with the numbers who participated. "The combined A and C tracks created a good, tight track and plenty of great racing. The level of comradery was particularly notable during our post-race function in our level 1 function room overlooking pit lane.
"That was when we all had the opportunity to meet Ben Edwards, who was visiting a friend in Wanaka prior to this coming weekend's Australian F1 Grand Prix. Ben had heard of Highlands and was keen to visit.
"Tony Quinn introduced Ben and it was great that everyone had the opportunity to talk with him about all kinds of motorsport – it was a real highlight in what was a fun day – especially getting a little insider knowledge of the stars of F1 at the moment."
The second two rounds of the Highlands Sprint Series run back-to-back over the weekend of 2-3 April. The Sprint Series is open to all competitors with a MotorSport New Zealand (MSNZ) competition license and a vehicle that is MSNZ certified with a minimum half roll cage. The four race classes will be determined by lap times during practice and there will be five 6-lap races per round, as well as five races for the dual sprint competitors.
"These events are very much about enjoyment and participation for competitors, rather than creating a race spectacle. Having said that, anyone is very welcome to come along and watch if they want – there's no charge to watch the racing. And they might even like to get out on the track themselves in between races via one of the great Highlands on-track experiences like the Highlands Taxi or FastLaps in a GT3 Porsche – a unique opportunity to be part of the action.
"After each round, we'll open the bar on level one of the pit lane building for a competitor happy hour after racing finishes. Competitors will earn points for each race and a ticketed prize-giving will be held after the final race on 3 April."