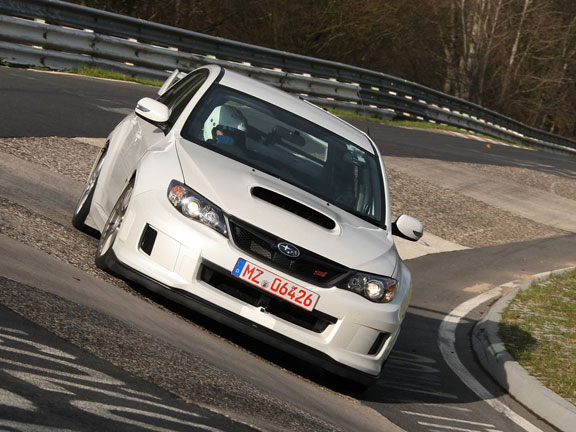 Four-time World Rally Champion Tommi Mäkinen drove the new Subaru to a time of seven minutes, 55 seconds – four seconds faster than Subaru's previous best time, set in 2004.
Tommi Mäkinen said: "The car was controllable with precise and faithful handling even on tricky corners. I could easily predict the car's behaviour. That is exactly what Subaru is offering: confidence."
The main changes to the 2011 Impreza WRX STI include chassis and suspension set-up. Technical changes to the four-door will also be carried over to the five-door hatchback model.
Check out the cockpit video below, demonstrating the chassis upgrades. The test vehicle was specced with a larger turbocharger, six-piston brakes, flexible tower bar and front lip spoiler. It also received a roll cage, a five-point safety harnesses and aluminum fenders.
The new Subaru Impreza WRX STI will go on sale in New Zealand later this year.
Brief Specifications:
Overall length x width x height 4580 x 1795 x 1470 mm
Wheelbase 2625 mm
Engine type Horizontally-opposed four-cylinder DOHC 16-valve turbocharged engine
Displacement 1994 cc
Transmission Six-speed manual