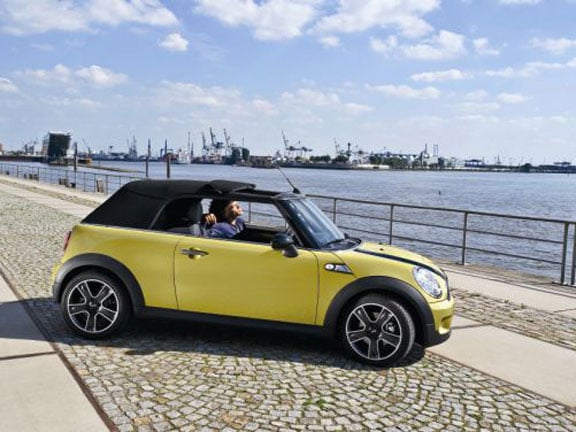 Given New Zealand's wet climate and high levels of ultra-violet in sunshine, probably not as much as they'd like.
But buyers of BMW's next generation Mini Cabriolet (a fancy word for what the Yanks so candidly describe as a ragtop) will be able to tell you, right down to the last minute.
The car, just announced in Europe, is fitted with an "Always-Open Timer" next to the tachometer. It shows occupants the time they've spent driving with the roof down.
BMW says that will motivate the driver to really "enjoy the thrill of open-air motoring as frequently as possible."
Certainly Mini ragtop drivers have no excuse for not using the car in open-air mode, because BMW has made lowering and raising the roof even easier and quicker.
No modern convertibles have the finicky canvas-stretched-over-collapsible-frame hoods that made British sports cars such a pain if you got caught out by a sudden shower of rain.
The exception may be Citroen's Pluriel which you almost have to dismantle and reassemble every time to you want to take the roof down and put it back up.
But basically once you've got the Pluriel roof down you needed to leave the hardware safe at home and get drenched should the heavens open while you're out enjoying plein-air motoring.
BMW says the new Mini Cabriolet will lower and raise the hood, fully-automatically, in 15 seconds, even while travelling at up to 30km/h.
You'll be protected from the elements and be able to keep you cool too. The automatic air conditioning now has a Cabrio mode to provide a consistent set temperature when the roof is open.
The roof also has central panel which can be retracted about 40 centimetres to create a sunroof which can be used at 100km/h and higher.
BMW says all this adds up to a car that is "simply begging for driving in the open air at any time of the year." So drivers have no excuses for keeping the roof raised. BMW says so.
It will sell the Cabriolet from next year, and in a choice of 12 colours with standard kit that includes a USB port and Bluetooth hands-free telephone system.
The Cabrio has an Easy-Load Function in which the rear-seat backrest folds down individually on either side. Luggage compartment capacity rises five litres, to 125 litres with the roof down and 170 litres with it closed. Luggage space peaks at 660 litres with the rear-seat backrest folded down.
BMW has strengthened the Cabriolet's body, floorpan, A-pillars and side sills to improve crash protection and reduce dashboard flexing and shake.
There are two engines, an 88kW naturally-aspirated 1.6-litre four-cylinder in the Cooper and turbocharged, 128kW, 1.6 in the Cooper S.
Peak torque in the Cooper's 1600 is 160Nm and BMW quotes a 0-100km/h time of 9.8 seconds and a 198km/h top speed.
The Cooper S's 240Nm (260Nm with Overboost) turbomotor reduces that to 7.4 seconds and lifts top speed to 222 km/h.
BMW says it has cut fuel consumption and CO2 emissions by up to 19 percent. It quotes 6.1 litres/100km and CO2 emissions of 145g/km for the Cooper and 7.2 litres/100km and a CO2 rating of171g/km for the Cooper S.
Standard gearbox is a six-speed manual with a six-speed automatic as an option. BMW has redeveloped the suspension, and DSC Dynamic Stability Control is standard.