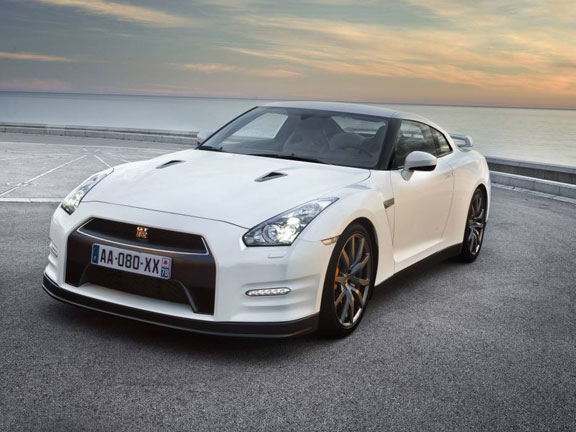 In a major evolution of the model, Nissan says every aspect of the R35 has been enhanced and improved in its third iteration.
Power from the hand-made 3.8-litre twin turbocharged V6 engine has been boosted 33kW to 390kW, while maximum torque developed from 3200-6000rpm is now 24Nm more at 612Nm.
Changes to the engine include modifications to the turbo boost pressure, valve timing and air mixture ratio. The inlet pipes have been enlarged and the exhaust system modified, while a new catalyst using fewer precious metals has been adopted.
Optimising this increased power through the six-speed dual clutch transmission and permanent four-wheel-drive system by selecting R-Mode and VDC-R allows the 2011 Nissan GT-R to accelerate from 0-100kmh in around 3 seconds.
The driver can either shift gears manually via magnesium paddles located behind the steering wheel, or opt instead for automatic changes. Either way, since there is one wet clutch for odd gears and one wet clutch for even gears, the next gear is already preselected which allows for fast shifting. There's also an automatic throttle blip on downshifts.
Also, a new transmission mode called SAVE has been developed for the 2011 Nissan GT-R. Designed for everyday use on motorways and ordinary roads, SAVE reduces engine torque and alters the transmission shift points for a more economical drive.
And, recalibrating the engine's control module, modifying the exhaust system and fitting a new catalyst have improved both fuel economy and emissions by a reported 3.5%.
Subtle chassis changes to the 2011 model's chassis, including new lightweight aluminium shock absorbers, have sharpened the model's handling.
Nissan engineers have made improvements to enhance the car's grip and responsiveness, with modified spring, shock absorber and anti-roll bar, increased castor angling, and lowered roll centre at the rear.
A new piston-free aluminium shock absorber has been developed, which reportedly generates a more precise damping force.
Newly developed tyres, lighter wheels and bigger brakes will also enhance the car's supercar driving experience.
Downforce has improved by about 10%, while the car's drag co-efficient has been lowered from 0.27 to 0.26 Cd.
The 2011 GT-R stands out from its predecessors with its 14% larger front grille opening, LED daytime running lights and remodeled front bumper, while at the rear the remodeled bumper, with its extended diffuser, new tail-pipe finish and LED fog lamps.
Inside, you'll find a number of refinements including newly developed high-res info screen, new Recaro-designed seats with heating, higher-quality finishes for many interior surfaces and softer seat belt material.