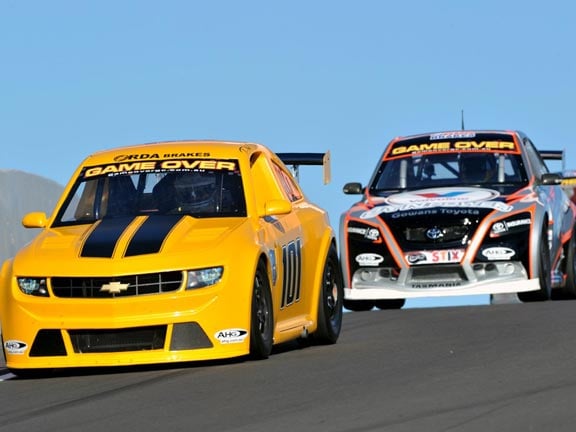 The Aussie Racing Cars are hugely well-supported with fields of up to 55 cars at some events, making it the largest motorsport category in Australia and one which is frequently voted the most entertaining support category at Australian V8 Supercar events. In 2014, Aussie Racing Cars marked its tenth anniversary of being an official support category for V8 Supercars, a partnership which continues in 2016. The Aussie Racing Cars made a one-off New Zealand appearance at Highlands Motorsport Park during the Highlands Festival of Speed in January 2015 where the energetic, evenly-matched style of racing was very much appreciated by Kiwi spectators.
Like the Aussie Racing Cars, the NZ Racing Cars series is owned by Tony Quinn, who also owns Highlands Motorsport Park and Hampton Downs Motorsport Park.
Mike Sentch, Highlands' general manager, says: "Each identical Aussie/NZ Racing Car is powered by a 1.2-litre, 125bhp, twin cam, 16 valve engine that revs to 11,500rpm and because each car weighs only 450kg, these little racers have an incredible power-to-weight ratio and will easily reach 230km/h or more on the Highlands' circuit straights.
"The new one-make series will hit the track for the first time in New Zealand with test days at Highlands (30 April) and Hampton Downs (8 May). Sanctioned by MotorSport New Zealand, the NZ Racing Cars Series will incorporate five rounds, commencing at the ITM 400 V8 Supercar event in Auckland this November and continuing as part of next summer's Premier Motorsport summer season.
"We have two cars in New Zealand for the test days at Highlands and Hampton Downs.
"Competitors are invited to register their interest in participating in either test day by emailing info@ nzracingcars.co.nz (without the space). A test day a fee will apply and includes a briefing, two track sessions and a debrief with our professional driver Andrew Waite."
Sentch says competitors can choose to own or lease their NZ Racing Car. "We currently have 20 cars being built by our team in Australia and will build more to demand.
"As the New Zealand season is generally the off-season in Australia and with the cars being identical in both the New Zealand and Australian series, we can create a true trans-Tasman challenge. We expect a number of our Australian competitors to also compete in the New Zealand series because this format of racing is great fun and offers really good value.
"We look forward to welcoming participants to the NZ Racing Cars test days at Highlands and Hampton Downs. As Shane van Gisbergen says, they offer a fantastic stepping stone in a burgeoning racing career or a way to return to competition, so we're expecting a diverse field of competitors, young and more experienced."