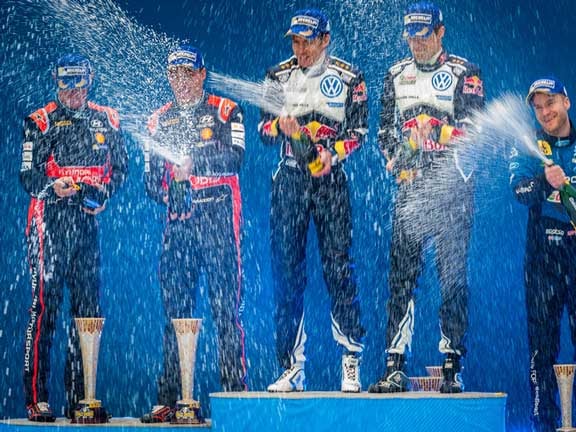 Paddon is the first non-European driver to finish on the podium on the snow rally which is traditionally dominated by Scandinavian drivers and is now one of only seven non-Scandinavian drivers to have secured second place finishes on this World Rally Championship event.
After a steady Friday morning in their debut event in the New Generation Hyundai i20 WRC car, the New Zealanders leapt into podium contention with two more outright WRC stage wins during Friday afternoon's stages (bring their WRC stage win tally to ten). The Kiwis were second behind rally leader and three-time world rally champion Sébastien Ogier, but just 15 seconds separated Paddon in second and Andreas Mikkelsen in sixth, setting up a closely-fought five-way battle as snow fell and roads froze overnight to create the more familiar icy conditions of the Swedish rally.
Paddon and Kennard delivered a strong performance on Saturday morning, with consistent top three stage times and a stunning run on stage 12 to slash the gap to Ogier to just 8.8 sec. More importantly, edging closer to Ogier meant a bigger buffer to the hard-chasing Mads Ostberg in third. The Kiwis finished Saturday comfortably holding second, their margin to leader Ogier 17.1 sec and their lead over Ostberg 25.2 sec.
With the event using a shortened route due to earlier warmer weather conditions reducing the usual ice and snow for which the compulsory studded tyres are made, there was just one special stage to run on Sunday. Paddon and Kennard successfully completed the final stage with a steady sixth fastest time and just needed to return to check-in at the service park in Karlstead. However, having crossed the stage finish line with a water leak from the radiator after hitting a wooden post during the stage, they had a quick repair to complete before carefully nursing the car back to officially finish the rally.
Paddon said: "We're really happy to finish second. It's much more than we expected at this rally so to bring it home safely is a big relief. We had a small scare on the last stage which kept it interesting right to the end!
"That late drama aside, we have had a good weekend and I have felt very comfortable in the New Generation i20 WRC. We made the most of our road position when we had to, and refused to get drawn into a fight for the lead.
"It's a great result for the team. Obviously scoring manufacturers' points this weekend is very important.
"All in all, very good. We're really looking forward to the rest of the year now. we know there's a lot more to come from myself and the car, especially once we spend a bit more time developing some setups and once we get back onto gravel. It's a good confidence boost and now we're looking forward to Mexico."
The history-making result moves Paddon into fourth equal on the WRC drivers' championship points-table – his highest-ever championship position to date – and also marks the second consecutive podium finish for the New Generation Hyundai i20 WRC car to score 18 important manufacturer points for the team, who are now just five points off leaders Volkswagen Motorsport.