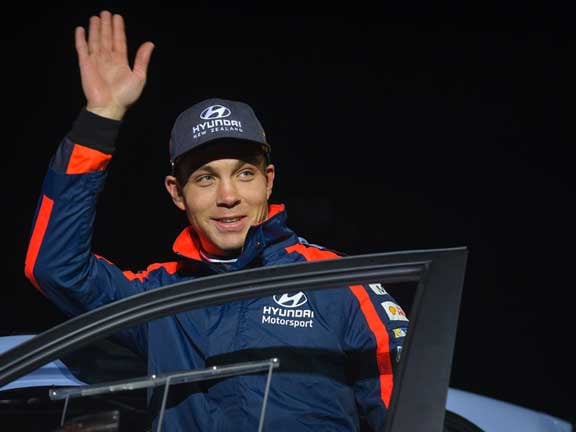 It's a fact that can only benefit the efforts of Rally New Zealand to secure future FIA World Rally Championship events.
Finishing second in the WRC's only snow rally over the weekend (12-14 February) Paddon and Kennard, from Geraldine and Blenheim respectively, became the first non-European driver paring to finish on the podium at this specialised event traditionally dominated by Scandinavian drivers.
MotorSport New Zealand president Shayne Harris paid credit to Paddon and Kennard on their history-making achievement.
"Hayden Paddon, ably assisted by John Kennard in the co-driver's seat, continues to impress with each and every step he takes with his international rallying career," Harris says.
"Hayden's achievements in Sweden were outstanding and it's very exciting for everyone who's followed his career from its early days in South Island regional rallies to now see him with a three-year contract with Hyundai Motorsport and regularly mixing it with three-time world rally champion Sébastien Ogier.
"Hayden and John represent New Zealand at the highest levels of world motorsport. Professional, focused and hard-working, they do an incredible amount to keep New Zealand's profile strong in world rallying."
Peter ('PJ') Johnston, chairman of Rally New Zealand, echoes Harris' comments. "The second place finish at Rally Sweden was a wonderful result for Hayden and John, as well as the sport as a whole in New Zealand."
"Hayden has agreed to be the official ambassador for Rally New Zealand as we strive to bring a World Rally Championship event back to our shores in future years," Johnston says.
"Hayden's continued success at the highest levels certainly helps our cause of once again hosting the WRC in New Zealand. Hayden and John are fantastic ambassadors for motorsport as a whole, raising its profile among Kiwi sports fans and making sure New Zealand stays strong and visible in world rallying circles."
Johnston confirms that the WRC promoter is scheduled to visit New Zealand later this year to visit the facilities in the proposed venue in Tauranga, Bay of Plenty.