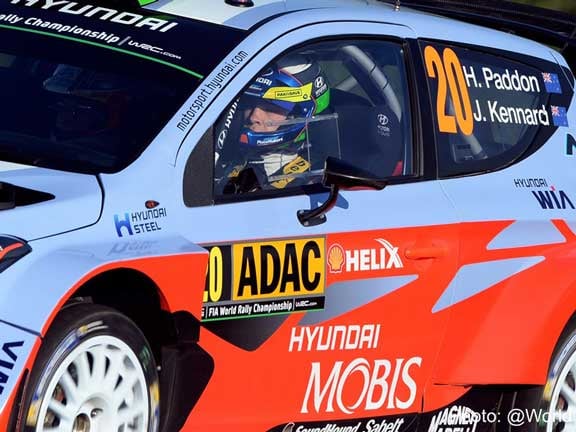 Their goal for the 20-23 August German event is to learn and gain valuable experience on tarmac, and Paddon and Kennard made the most of a largely positive run through Friday's eight stages among the vineyards of the Moselle region (European time).
They finished the day in eight place overall and were encouraged by their pace relative to their Hyundai Motorsport team-mates Thierry Neuville and Dani Sordo, both of whom have a lot more experience on tarmac and, last year, secured a history-making one-two victory for Hyundai on this event.
Of Friday's performance where a sixth quickest stage time was their best result, Paddon commented: "We knew heading into this rally that we would have to use it as a learning experience and to build our confidence on tarmac, a terrain with which I am not as familiar as gravel. It's not been a bad first day and we're a bit closer to our team-mates than what we were expecting here so this is a positive.
"But obviously there's a lot of things to learn, a lot of things to take in and we changing things as we go to try and improve. We've had a few tough stages but we have to be realistic and focus on finding improvements where we can. It's a bitter pill after we've been competing for top-fives in recent rallies but we'll persevere and see what tomorrow brings."
However, on Saturday Paddon, and Kennard were unknowingly stymied by a turbo-related technical issue which slowed the Kiwis on all stages of the event's longest day.
"It's been a difficult afternoon," Paddon said after completing Saturday's nine stages to hold ninth position ahead of the rally's final day.
"Unfortunately we've had some small issues with the turbo which cost us a bit of power and unfortunately cost us a lot of time. Nevertheless we've been able to hold our position in the top ten. The boys will able to fix the problem tonight and we'll come out tomorrow to try and show a lot more competitive times which I know we can do.
"We've been making some steps forward with the driving and setup but because of these other issues, that hasn't shown in the times. Tomorrow's another day, and we're looking forward to it."
Paddon's team-mates Dani Sordo and Thierry Neuville hold fourth and fifth places respectively, and are involved in a tight battle as they both look to secure top-five finishes and vital WRC manufacturer's points for the team. The team's fourth driver Kevin Abbring continues to benefit from valuable learning and is hoping for a top-ten finish this weekend.
Sunday's schedule consists of a repeated loop of two stages with a total special stage distance of 67.34km.