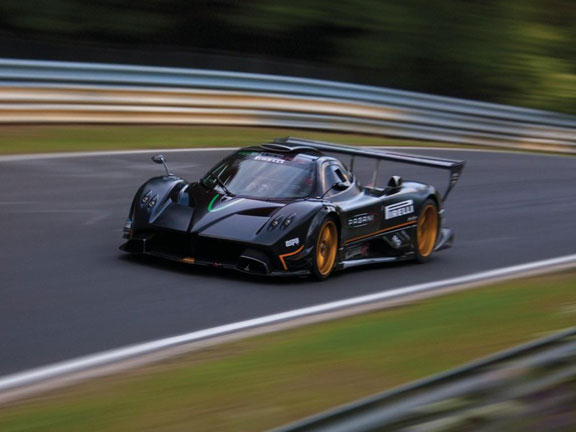 Driven by Marc Basseng, the Zonda R beat the previous lap record of 6 minutes 48 seconds for a 'road-based car' – completing the demanding circuit in 6.47.
The 1070kg Pagani Zonda R features a Mercedes-sourced 6.0-litre V12 engine which has been tuned to produce 740hp (552kW) and 710Nm (524 lb-ft) of torque. It enables the car to accelerate from 0-100kmh in less than 2.7 seconds, before topping out at 351kmh.
However, controversy surrounds the 'road legality' claim. Pagani says the Ferrari 599XX, which went round the 'Ring 11 seconds slower than the Zonda R a couple of months ago, is not road legal either. Nor is the Radical SR8 LM, which did it in 6.48 last August. It doesn't help that there's no official body that rules on Nurburgring records: no regulations on whether the timed lap should be from a standing or flying start, no rules on what defines a 'road-based car', etc.
However, 6.47 is one quick lap… and the below video is a fantastic birds-eye view…