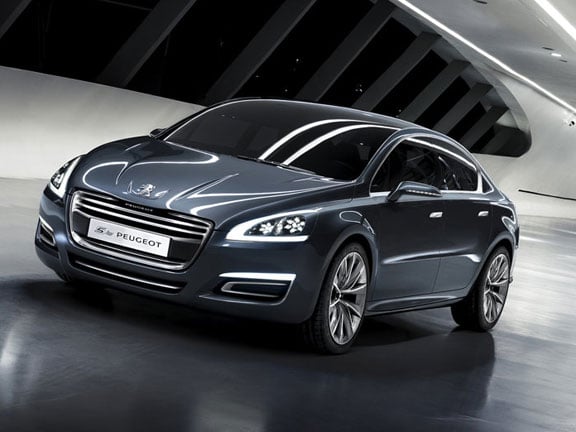 The 5 by Peugeot Concept car is powered by Peugeot's HYbrid4 technology, – a 2.0 litre HDi FAP 163bhp diesel engine, mounted at the front of the vehicle, combined with a 37bhp electric motor at the rear.
Fuel economy on the four-wheel drive is reportedly 3.8 litres/100km with CO² emissions of 99 g/km, or zero in electric mode.
Of the design, Peugeot says the 5 Concept "expresses the Marque's vision and experience in the large touring car market. This concept car is designed and built to have both elegance and precision, but without in any way sacrificing the personality and dynamism so beloved of the Peugeot marque."
LED lights and 19-inch rims are featured, along with a unique front grille design with revised Lion badge, bevelled, brushed-aluminium window surrounds and door handles.
The new model will reportedly replace the 407 and 607 in 2011, and Peugeot's Hybrid4 technology is set to debut in the upcoming 3008 model.