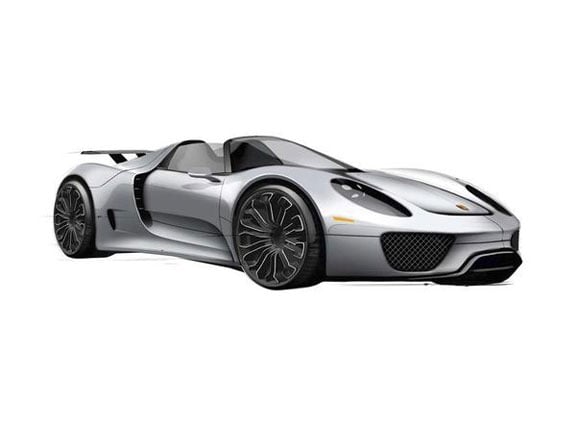 The 918 Spyder is available for order with an ex factory RRP of 645,000 Euros (NZ$1.2 million) plus shipping, country-specific charges and GST.
But for that price you'll be getting an exclusive car – only 918 units are being made. But you'll also be offered a 911 Turbo S "Edition 918 Spy-der" in June, to ease the pain of waiting for delivery due in November 2013.
The 918 Spyder is estimated to consume just three litres of fuel per 100 kilometres, thanks to its hybrid technology. Its V8 engine delivers more than 368kW (500hp), assisted by two electric motors with a total of at least 160kW (218hp).
The production version of the two-seater, based on a carbon fibre-reinforced plastic monocoque, features a manual roof system with removable roof panels that can be stowed in the front luggage compartment.
Performance figures are quoted at 0-100 km/h in 3.2 seconds and a top speed of more than 320 km/h. That means the Spyder will be able to manage a lap of the Nürburgring Nordschleife in less than seven minutes and 30 seconds – trumping the Porsche Carrera GT, which needs seven minutes and 32 seconds. The top speed on purely electric power is 150km/h.
The 911 Turbo S "Edition 918 Spy-der", also limited to 918 units, borrows some of the 918 Spyder's features, including the acid green features of the logos and seams, the instrument cluster needles, the specific PCM screen and illuminated door entry guards. The technology and basic equipment of the new 911 Turbo S "Edition 918 Spyder" are based on the 530hp (295kW) 911 Turbo S, complemented by an enhanced leather interior, a special instrumentation version and additional carbon elements inside and out.
New Zealand pricing and specification is yet to be confirmed.
Read more about the Porsche 918 Spyder.