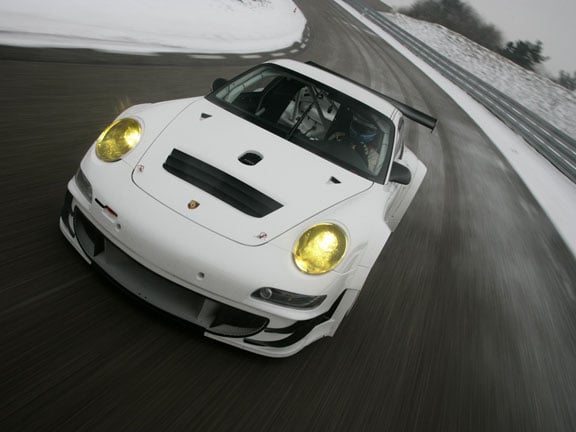 Based on the car which won its class in the American Le Mans Series, it's designed to compete in the GT2 class in international long distance races.
For 2009 it has a re-designed nose with large air outlets on the front "bootlid." The outlets mate to re-designed air ducting for the radiators, which Porsche says was necessary to accommodate the optional air-conditioning unit.
The rear wing now has a wider adjustment range, the braking system is weight-optimised and the electrical wiring loom is lighter.
The six-cylinder boxer engine's cubic capacity rises from 3.8 to 4.0-litres and, with the airflow restrictors mandated by the FIA, develops 331kW at 7800rpm and peak torque of 430Nm at 7250rpm. The engine is rev-limited at 9000rpm.
The gearbox is a six-speed with sequential shift; oil/water heat exchanger, single-mass flywheel, and hydraulic disengagement lever.
The car is rear-wheel drive and has a limited slip differential and a three-plate carbon-fibre clutch.
Porsche says that compared to the old model, the rev level for a given power output has been significantly lowered, giving better driveability.
The GT3 RSR has a new air-jack system with over-pressure valve, and the oil re-fill with fast filling function has been moved to the rear, giving mechanics better access.
Porsche has built GT3 RSRs, selling them for 380,000 Euros.