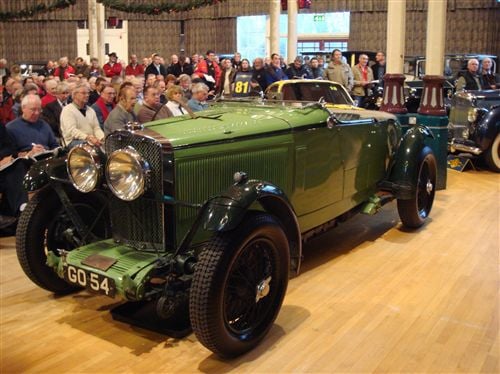 That was far in excess of the estimate for the famous racer (generally known by its registration number, GO 54), whose many successful exploits include third place overall in the 1932 Le Mans 24-hour race in the hands of Honourable Brian Lewis and Tim Rose Richards.
Lagondas have become something of a speciality for British auctioneer, H&H, since created a new world record for one of the M45 Le Mans team cars last year.
At last week's H&H auction at Buxton a new price record was set for a 2.0-litre Lagonda.
H&H realised more than $250,000 for a 1930 Supercharged Tourer. A timewarp car down to its original sidescreens, GK 8901 attracted a great many bids both in the saleroom and by telephone.
A Wilkinson-bodied 1923 Rolls-Royce Silver Ghost Tourer realised more than $200,000.
An eye-catching Lancia Lambda Series VIII Tourer came in well above estimate at just under $120,000, and an elegant Park Ward-bodied 1950 Bentley MK VI Drophead Coupe sold for just over $135,000.
The oldest car in the sale, a 1912 Swift Open Two Seater, did better than expected, realising more than $24,000. A VW Beetle, with 26,700 miles on the clock sold for around $13,500.
A 4.2-Litre Jaguar Coupe, in need of restoration but with only 53,543 miles from new, sold for a little over $33,000.
Ca