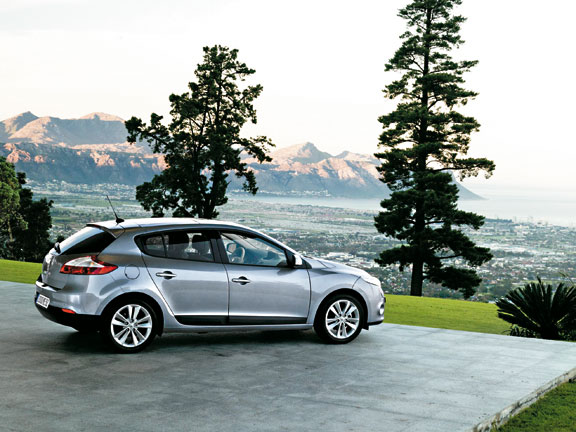 Renault says the new model, the Megane 3, benefits from the reliability and durability progress it has made across its range.
Inside there are combined analogue/digital instruments incorporating a new, easier-to-read colour-coded cruise control/speed limiter interface. The Megane 3 has hands-free entry and ignition, and automatic locking as the driver walks away from the car.
Renault NZ boss, Wallis Dumper, says a time scale for the Megane 3's New Zealand launch has yet to be finalised.
The car goes on sale in Europe from November but is not expected here until 2010.
The new model is 4.30 metres long, with short front and rear overhangs, a 2.64m wheelbase, steeply-raked roofline and wide track.
The windscreen wipers are concealed beneath the bonnet line, cutting wind noise and improving aerodynamic performance.
Renault will market a range of accessories for the Megane 3, including body kits and comfort-enhancing and stowage equipment.
The boot volume is 405 litres (372 when spare wheel is fitted), and access is made simple by low sill height and wide hatch aperture, which has been achieved by locating part of each rear light cluster on the hatch itself.
The 60/40-split rear seat allows the load capacity to be easily adapted using easy-to-reach levers.
The Megane 3 retains the existing model's under-floor stowage.
Seven different diesel engines ranging from 85 to 160 horsepower will be available in Europe, with a choice of manual and automatic transmissions.
Five different petrol engines from 1600cc to two litres will also be available with power outputs from 100 to 180 horsepower with CVT, manual and automatic gearboxes.
New Zealand is expected to choose a diesel and sports petrol performance model given the relatively small scale of this market.