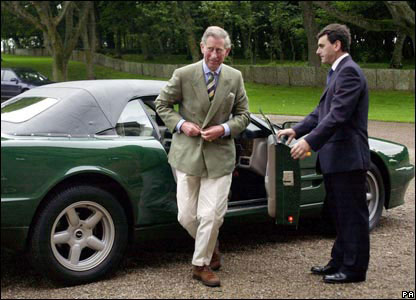 The Prince of Wales has reduced his motoring emissions by running his 38-year-old Aston Martin, a 21st birthday present from the Queen, on fuel made entirely from English wine.
Sir Michael Peat, the Prince's private secretary, said: "The bioethanol from our supplier happens to be made from wine. I think our wine is surplus English wine. It is wonderful. It is not corked."
But the wine is not left over from banquets at Clarence House or dinner parties at Highgrove the Prince's Gloucestershire residence.
The EU sets strict limits on wine production and any excess is not allowed to be sold on the market. One way it is redistributed is for use through environmental fuel.
Prince Charles now drives the Aston Martin Volante Convertible car only in the summer and clocks up around 300 miles each year.
The Prince's Jaguars, Audi and Range Rovers have all been converted to run on 100 per cent biodiesel made from used cooking oil.
The annual report of the Prince of Wales and Duchess of Cornwall said: "When their Royal Highnesses are travelling in the UK the aim is to reduce emissions through greater use of cars, trains, and turbo-prop aircraft. In accepting and arranging engagements more consideration is being given to reducing travel distances."