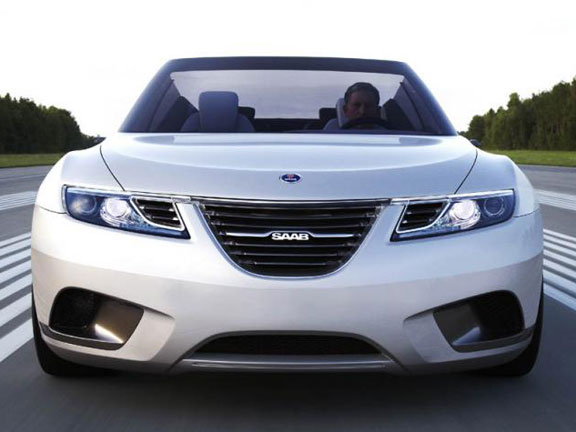 Saab has revealed details about its upcoming Paris Motor Show concept car — the new 9-X Air.
The 9-X Air is a convertible version of the previous 9-X BioHybrid concept vehicle from March's Geneva Motor Show.
The concept features a speedster-style chopped top with a fabric roof and a high-tech interior, and previews a future production model for Saab that is reportedly going to be called the 9-1. The new model will likely be targeted as a premium hatchback alternative to BMW's Mini.
The proportions are small, just 4.43m in length, 1.39m across and 1.83m high, but offers space for four adults and the folding mechanism for the roof structure.
The rear window of the car is not integrated into the roof but arises out of the rear bulkhead at the push of a button. Other distinct styling features include LED lighting, quad exhaust pipes, and 21in wheels with 245mm rubber.
Under the hood sits a turbocharged 1.4L E85 flex-fuel engine mated to an electric motor running on lithium-ion batteries. Peak output stands at 200hp (147kW) and 200lb-ft (280Nm) of torque, which is enough to accelerate the car from 0-100km/h in just 8.1 seconds and reach a top speed of 231kmh. When running on petrol, fuel consumption registers at an impressive 47mpg (5L/100km).
Drive is sent to the front wheels via a six-speed dual-clutch transmission, which sports a pair of paddle shifters on the steering column for manual shifting of the gears.
The 9-1 is expected to go into production next year with a range of powertrains including advanced diesels and flex-fuel engines, and even a possible hybrid option.