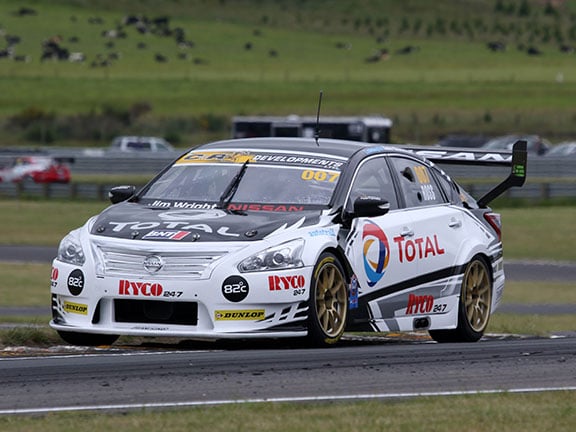 Second Overall For Nick Ross at Taupo
Across the weekend's three races, Ross, driving his Total Lubricants Nissan Altima recorded two second placing's and a fifth elevating him to fifth place in the championship.
Ross scored his two second place finishes in the opening encounters of the weekend before a fifth place finish in a rain affected final race on Sunday afternoon. Ross was pleased with his weekend and happy with the consistent speed of his Total Lubricants Nissan Altima over the course of the weekend.
"It was a very consistent weekend. In the last race, I pitted in second place and the team did the tyre change, but unfortunately when the car dropped back down I stalled it, which cost us about five seconds, and dropped us down to fifth," said Ross. "If it hadn't of been for that, I think we would have been challenging for the win."
"The conditions were really changeable, so there were a lot of strategy calls from the other teams coming into play. It was raining on some parts of the circuit and not the other. My team was asking me on the radio whether we should switch to wet tyres, I elected to stay on the dry tyres which turned out to be the right call in the end."
Proving to be one of the drivers in the championship capable of catching series leader Simon Evans, Ross says he and his team still need to find a little bit more performance out of their Nissan Altima.
"There isn't a lot of speed difference between my Total Lubricants Nissan Altima and Simons car, we just need to find a little bit more grip in our car. They seem to be able to maintain their tyre condition throughout a race, we tend to use ours, if we can solve that, we'll be that little bit closer."
The championship now heads to Ruapuna near Christchurch for round three, January 14-15.
"I really enjoy Ruapuna. It's one of those circuits where if you turn up and the car is good, then you're on for a great weekend. If you turn up and the car isn't that good straight away, you're really going to struggle all weekend."
"It's a very technical circuit. The harder you push, often the worse you'll do. It rewards smoothness. I'm excited to see what that weekend brings."