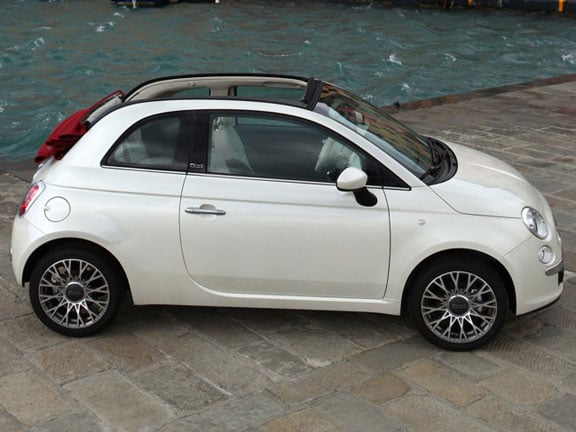 Unveiled at the 2009 Geneva Motor Show, the new Fiat 500C pays homage to the original 1957 Fiat 500 with its fabric roof.
In Italy, the public will be able to take it for a test drive from 4 July, the birthday of the Fiat 500 and two years after the launch of the latest model that has proven a hit the world over. The best evidence of its success are the 30 awards it has won across the globe, the 11 million internet users that have visited its website, and the more than 360,000 orders so far received across the 59 markets in which it is being sold.
Fiat says the introduction of the soft top does not change the winning character that has made the Fiat 500 a worldwide success, such as its four comfortable seats and boot capacity, but it does add new functions that heighten enjoyment.
These include easier access to the boot even when the soft top is fully open, thanks to a clever system of parallelogram hinges.
The Fiat 500C retains the same dimensions as the base model (355cm long, 165cm wide and 149cm high) and shares all three of its power units: the 55kW 1.3-litre MultiJet turbodiesel engine combined with a five-speed manual gearbox, and the 51kW 1.2 litre and 74kW 1.4 litre petrol engines, both available with manual or Dualogic robotised gearbox.
The new convertible is distinguished by an automated sliding soft-top with an integrated glass backlight and built-in center high mounted stop light. The lining for the roof is a new weather resistant canvas that is available in three different colors – ivory, red and black.
New to the 500 range, including the latest 500C, is a fuel-saving engine stop-start system. Whenever the vehicle comes to a stop and the driver releases the clutch, the engine is switched off and then restarted simply by selecting a gear.
Details of the versions to be sold in New Zealand, along with their prices and specifications, will be announced when the Fiat 500C arrives in New Zealand in mid 2010.