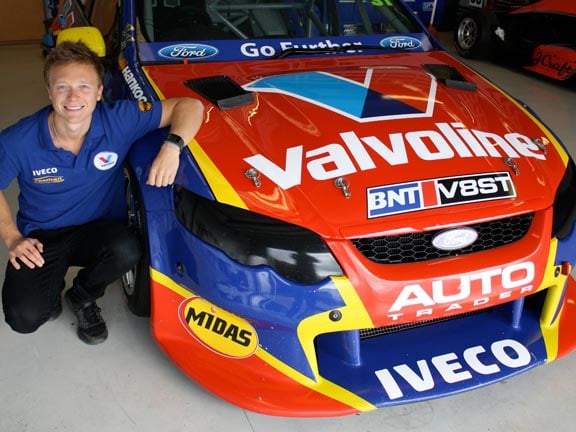 I have been down in the lower south island doing a lot driver training recently at the newly opened and magnificent Highlands Motorsport Park, just near Cromwell.  The track was built by prominent motor sport identity Tony Quinn and is an absolutely amazing facility and I would think is the talk of the New Zealand automotive industry.
For those who haven't been there yet, the track is 4.8km long with 3 different configurations that can be used at one time. The first time you get out on track you feel like you just about need a map book and some pace notes to find the way around it! Once you get the hang of where the track actually goes it's a place that has a little bit of everything, tight and fast sections as well as some more technical parts.
My favourite part of the track is what is called the "bus stop" which is a quick little right left off a straight, kind of like a bus stop really, which then goes into a very long sweeping right hander that runs through the forest. It's a corner that just keeps on going and is one that rewards patience on the throttle. 
Highlands Motorsport Park hosts its first big race meeting on November 8th-10th – The Highlands 101. It will be a real highlight on the New Zealand motorsport calendar as it will be a round of the South Island Endurance series as well as a round of the Australian GT championship, which I follow with great interest.
The Australian GT championship will be fantastic to watch as it features a lot of the worlds most exotic race cars such as Lamborghini's, Porsche's, Ferrari's and Audi's. With Highlands being a technical circuit it will certainly create a lot of close hard racing, hopefully an event I won't be missing!
Aside from one of New Zealand's most beautiful racetracks there is an amazing museum that Tony and his team assembled during the track build. It has some real history which you could spend hours looking at, and I must admit whenever I walk into the museum I find myself staring at all the cars imagining what it would be like to drive them out the door and take for a few laps around the track.
One of my favourite places at the track would have to be what Highlands have named "The GT Lounge" which is used for hosting events and is exclusive to the tracks members. From the deck you get a full view of the amazing track that has been created with a beautiful backdrop of the snow covered mountains that surround the area.
It really is a place that is a 'must' to visit.
Visiting Highlands is what I'm about to do as I head down there for another weekend of driver training. Once I get home on Sunday night my full focus turns to the V8 SuperTourers as we have our next round at Hampton Downs on the 28th-29th of September where Daniel Gaunt and myself are looking at having a really good crack at taking out the V8 SuperTourer Endurance title.
See you at the track.
Andrew