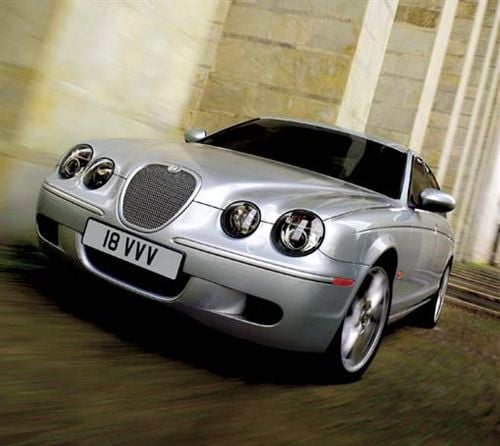 The S-type, which arrived in 1997, took styling cues from the mid-1950s S-type which was a longer-
wheelbase development of the sporty Mark 2 saloon car.
Though it had distinctive looks and brought a renewed sleekness into Jaguar's sedan line-up, the S-type hasn't been the marketplace success Jaguar had been hoping for.
The 4.2-litre supercharged V8 turns the S-type into an ultra-potent sporting saloon, but the 3.0-litre V6 version didn't really have enough "go" despite tidy handling and a sporty feel.
The twin-turbo 2.7-litre V6 diesel gave the S-type a shot in the arm, but overall sales of all versions of the sedan failed to meet expectations.
Jaguar New Zealand lists only the supercharged V8 and diesel models, though other versions are available to firm and special order.
Jaguar NZ plans also to bring in only the blown V8 and turbodiesel when the face-lifted model arrives here around May of next year.
The final S-type, unveiled last week at the Bologna motor show in Italy, goes on sale in 2007, even though it is described as a 2006 model.
For the 2008 model year, all S-types will adopt the sporting type-R bumper and mesh grille, giving the front end a cleaner, more potent look.
The alloy wheel range has been upgraded. A multi-spoke 17-inch Antares wheel is standard on the cheapest models, SE versions have 18-inch Triton alloys, and the XS which replaces the S-type Sport, has 18-inch Mercury wheels. The range-topping S-type R gets a 19-inch wheel, the Barcelona.
In paint choices, Jaguar racing green is replaced with a new shade, emerald fire, and all other exterior colours remain unchanged.