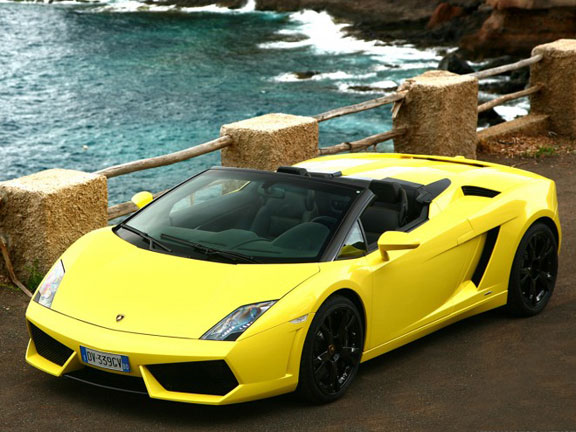 After its debut at the Los Angeles Auto Show, few official pictures of Lamborghini's new convertible were available.
Now the Spyder with the automatic folding top can be seen in all its high-res glory.
The roof mechanism uses a hydraulic pump and six-cylinders as well as an electric motor to lift or lower the roof, which takes about 20 seconds. With the roof closed, Lamborghini claims the new Gallardo LP560-4 Spyder will be able to reach a top speed of 324kmh.
Revised headlights with LED detailing and a reverse camera in the rear spoiler differentiate the convertible Spyder from its standard coupe counterpart.
The car measures in at 4.34m in length, 1.9m across, and 1.18m high, and weighs 1550kg.
When combined with the 552hp (411kW) and 398lb-ft (540Nm) of torque output of the LP560-4 5.2L V10 engine, the new Spyder will accelerate from 0-100kmh in approximately four seconds – 0.3 seconds slower than the hard-top.
The Gallardo LP560-4 Spyder comes standard with the six-speed e-gear sequential transmission.
Auto Trader has Lamborghinis for sale. Check them out here.
Compare the Lamborghini Gallardo Spyder with other models here.