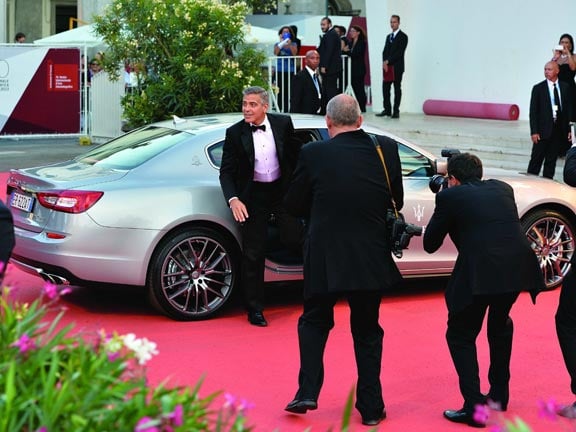 To mark the 70th Venice International Film Festival, Maserati has taken the role as main sponsor of the event, ensuring the stars arrived on the red carpet in the style and elegance that only a Maserati can deliver.
Among these stars included host of the event, the stunning Sicilian-born top model and actress Eva Riccobono and the breathtakingly beautiful actress and producer Sandra Bullock, who had all eyes on them as they each arrived in the all-new Maserati Quattroporte, which is set to make its own debut in Australia and New Zealand in October.
Also to arrive in the luxurious four door saloon and Trident Marque's flagship, none other than Hollywood's biggest heartthrob George Clooney and one of the most famous working Italian directors in the world, Bernardo Bertolucci, who is also this year's Chair of the International Jury for the Competition of the 70th Venice International Film Festival.
Following the ceremony guests were chauffeured in a stream of Maseratis to attend the magnificent setting and focal point of the Venice Film Festival, The Maserati Terrace, set in the pool area at the Hotel Excelsior. Here main sponsor Maserati hosted a magical evening with the exclusive opening film screening alongside Sandra Bullock and George Clooney. The world renowned Academy Award winners both star in this autumn's eagerly awaited science fiction thriller Gravity, directed by the very highly acclaimed Alfonso Cuarón, best known for his films Y Tu Mamá También (2001), Harry Potter and the Prisoner of Azkaban (2004) and Children of Men (2006).
The evening marks the beginning of Maserati's relationship with the 70th International Film Festival of the Venice Biennial as main sponsor of the event, cementing the relationship between the prestigious film festival and the Fiat Group.
The 70th Venice International Film Festival is being held from 28 August to 7 September 2013 and throughout these dates Maserati is holding an exclusive courtesy car service and ensuring a constant presence of the Trident cars on the red carpet, which will have the various international celebrities attending the Venice Film Festival on board.
The main sponsor area, The Maserati Terrace, will be representing the central space and vital part of the Venice Film Festival as it is dedicated to interviews, meetings, cocktail parties and events.
Just a few months from the start of celebrations for its Centenary, Maserati is a company in rapid expansion. With presence in 65 markets worldwide, its role is clearly confirmed as an international ambassador of Italian excellence. This excellence is conveyed every day with passion through products of great charm and outstanding performance seen in the GranTurismo, GranCabrio and the new Quattroporte and Ghibli.