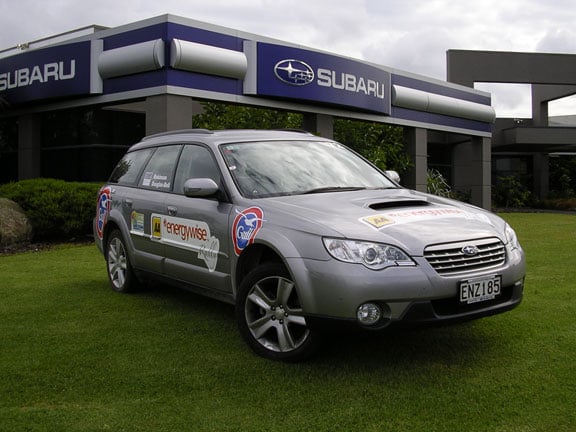 Subaru NZ technical manager Noel Robinson and marketing manager Peter Douglas-Bell drove their Outback 2.0D Euro to victory in the Lifestyle/Leisure class, averaging 5.41 litres/100km (52.2mpg). It also had the lowest CO2 emissions in its class – 141.73 grams/kilometre.
And Tauranga journalist Colin Smith and Subaru's PR consultant John Coker recorded the best fuel economy of any 4WD/AWD vehicle in the event, using 5.151 litres/100km (54.8mpg) over the four day, 1641km route in their Legacy wagon which emitted 134.95 grams/km of CO2. 
The Smith/Coker car finished 0.225 litres/100km behind the class-winning 2WD Volkswagen Passat BlueMotion Wagon, despite the Legacy's 33kW more power and 100Nm more torque.
On two sections – Palmerston North to central Wellington and Rotorua to Wiri – the Legacy achieved 4.6 litres/100km. Smith is an ultra-smooth accomplished real-world economy driver, regularly achieving spectacular results in road test cars while maintaining brisk average speeds.
Subaru's new diesel engines develop 110kW of power and 350Nm of torque. The Legacy sedan and wagon and Outback diesels go on sale in mid-December, priced between $41,490 and $44,990.