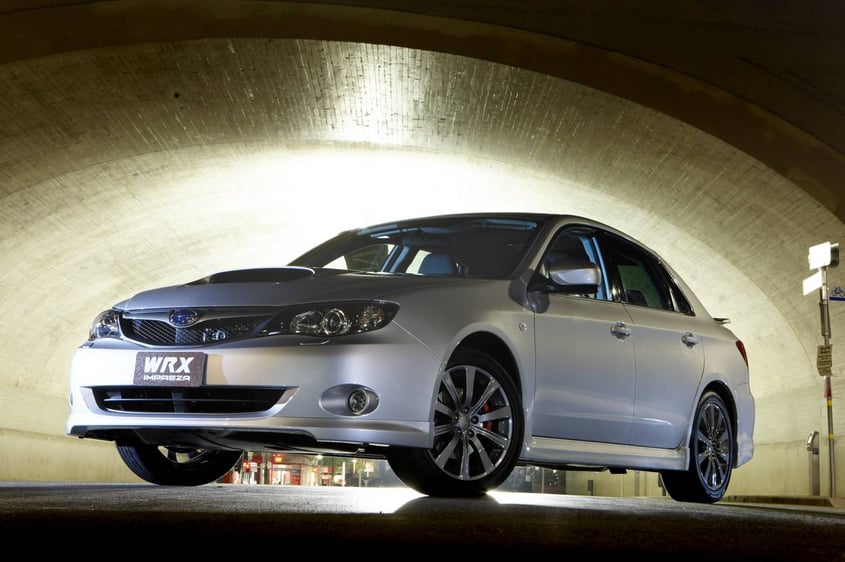 Subaru is promising breath-catching acceleration combined with sharper handling, better fuel economy and more luxury when the sedan version of its WRX pocket rocket hits New Zealand showrooms this month.
The WRX also gets more power and torque with an engine upgrade that will also be seen in the already-released hatchback which also benefits from changes to suspension tuning and to the gearbox.
Subaru says the 2009 WRX is knocking on the supercar door, with the potential to run to 100km/h in just over five seconds and has been timed in the low 13s for the standing quarter.
The WRX's 2.5-litre flat-four boxer engine is now rated at 195kW of maximum power, a 15.4 percent increase on the previous model. Torque peaks at 343Nm, a 7.2 percent lift. Subaru achieved the increases by using the same turbocharger as the ultra-potent STi.
The intercooler capacity rises to 14.0kW (12.1kW in the 2008 model), and the bigger turbocharger has maximum boost of 103kPa (up from 78kPa). A revised exhaust system improves gas flow by 30 percent to match the new turbocharger performance and increase engine power.
Those are significant power and torque boosts, and Subaru New Zealand quotes an un-named independent source which timed an NZ-spec WRX sedan at 5.31 seconds for the 0-100km/h dash.
We figure that source was test sessions at Sydney's Eastern Creek and at a driver training centre where two rally drivers ran 2008 and 2009 cars against the clock.
They did acceleration runs at the Eastern Creek dragstrip and ran laps on a one-kilometre circuit at the Marulan Driver Training Centre in New South Wales.
A Subaru Australia engineer recorded the acceleration times (a range of in-gear acceleration runs .was also timed) and the lap times. Eastern Creek dragstrip operators recorded the quarter mile runs using the strip's timing gear.
The drivers were former stars of Subaru's Australian rally team (the marque no longer contests gravel rallies with a works squad), Cody Crocker and Dead Herridge.
The new car's best 0-100km/h time was 5.31 seconds, where the 2008 car recorded 6.03s.
In the standing quarter, the 2009 WRX ran an impressive 13.27 seconds at 163.02km/h, compared with 14.05s and 153.63km/h for the 2008 car.
The new, more powerful car's fastest lap of the 1km circuit was 47.7 seconds; the 2008 WRX's best was 49.55s.
Subaru says the engineering development has also made the more potent WRX cleaner and more economical, with reduced exhaust emissions and lower fuel consumption.
It says combined cycle fuel use has dropped from 10.7 litres/100km to 10.4; carbon dioxide emissions are down from 252 grams/km to 247 grams/km.
Subaru says the more potent motor gives the $46,490 WRX the unofficial "best bang for bucks title," no doubt a jab at arch-rival Mitsubishi whose new Ralliart Lancer sedan costs more.
The triple diamond brand car has ballpark engine output with the Impreza – horsepower is 15kW less, torque 6Nm more – costs $3500 more (see separate story comparing the two in detail).
The Lancer comes only with Mitsubishi's double clutch automatic gearbox where the Subaru is a manual only.
Subaru says the 2009 WRX is biased towards sports handling, while retaining good ride comfort, grip and stability when driven hard. It has fitted stiffer coil springs, stabilisers and suspension top mounts and increased roll rigidity to improve maximum lateral G and turning ability. Fine tuning the shock absorbers has resulted in linear response with minimal delay when steering.
Using a ball-type key for the first and second gear synchro hubs and a change to the key groove on third and fourth synchro sleeve have improved gearshift feel. The main shaft and first driven gear are hardened and the clutch slave cylinder now incorporates an orifice valve to protect the drive train during rapid clutch engagement.
A damper valve added to the steering gearbox reduces kickback, particularly during cornering on rough roads.
Tyre size increases from 205/50 to 225/45, improving grip and handling. The Dunlop SP Sport 01 225/45R17s are fitted to 17-inch diameter, seven-inch wide alloy wheels.
Exterior touches include a new mesh grille and WRX badges front and rear, and the sedan gets a bootlid spoiler (the hatch has a rear roofline spoiler). Red brake calipers differentiate WRX from other Imprezas.
Paint colour choices are: Obsidian black pearl, Satin white pearl, Spark silver metallic, Dark gray metallic, Lightning red and WR blue mica.
Subaru has lifted the WRX's luxury level with standard leather upholstery and a sunroof. The rear seatback split/folds 60/40.
The WRX sedan and hatchback both scored five stars occupant safety in ANCAP testing, and both have four stars for pedestrian safety. Both have electronic stability control and Symmetrical All-Wheel Drive.