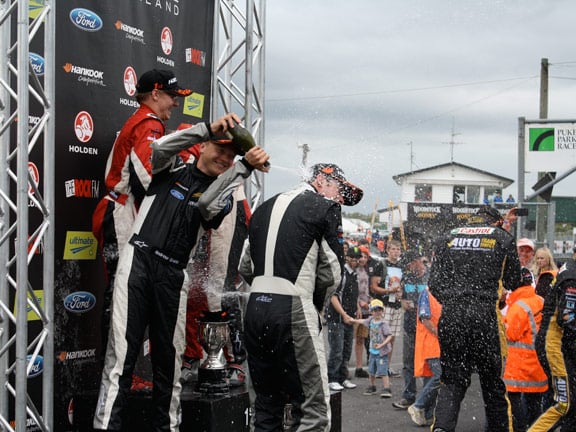 The team adopted the same strategy that saw them finish strongly the day before, setting up the #31 Valvoline/Autotrader.co.nz/ReplayXD/Shelby Auto Care backed Falcon to come on in the later stages of the race.
Again, co-driver Andrew Waite started both races keeping the car in a strong position despite serious pressure from the chasing pack, before handing over to Daniel Gaunt at the half way stage.
For team owners Steve and Christine Horne, it is the team's first podium since October 1998, at the Grand Prix of Houston where Brazilian driver Tony Kanaan was driving for them, competing in the American based Champ Car World Series. Team Principal Steve Horne says he's wrapped with the teams result this weekend.
"This is our first podium result since the Houston Champ Car race in 1998 and after a 14 year hiatus we're back!" says Horne.
"It's been a big effort to get a team back together, but I would especially like to thank Mark Pilcher our team manager, who has put a great group of guys together to help get this result."
"I'd also like to thank our group of partners, Valvoline, AutoTrader.co.nz, Replay XD and Shelby Auto Care, who like us are all new to the series. It's great to have their support and even better to give them a top result at one of the biggest events of the year."
"We were easily the strongest Ford team all weekend. It won't be easy, but we'll try to carry that form onto the next round at Ruapuna in a month's time.
It was also a big weekend for both TMG drivers, Daniel Gaunt and Andrew Waite – getting their first podiums in the series.
"As a team we've taken a big step forward and the whole team is proud of not only our progress to date, but especially this weekend," says Gaunt.
"Overall our race speed is a lot better than it was at Taupo. We still have a little bit of work to do to match the pace of the M3 cars and the MPC car of McLaughlin's."
"We were the first Ford home in two of the races, it's good to fly the flag for Ford fans."
Co-driver Andrew Waite says the TMG Falcon's speed improved throughout the weekend.
"Daniel did a fantastic job in the car all weekend, every time I got in, it was getting better and better."
"To be part of the teams first podium in what is only the teams 7th race in this series was fantastic – we'll try take another couple of steps forward at Ruapuna."