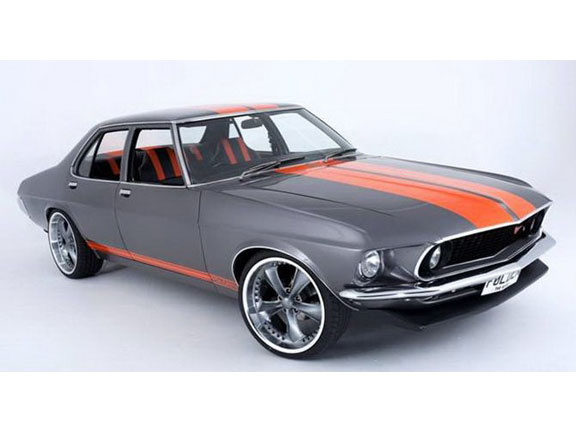 A couple of creative Kiwis from The Rock radio station have made the Folden – a mash of a 1970s Holden HQ and 1969 Ford Mustang.
Drive show announcers Robert Taylor and Jono Pryor claim that they created the Folden because they were "fed up with the ongoing battle between their listeners over who is mightier – Ford or Holden".
Their goal was to fuse the rear 3/4s of a Holden HQ sedan with the front-end of a Ford Mustang. Power would be provided by 302 cubic inch V8 Ford engine.
After three months, more than 800 man hours, and around $85,000, the Folden has finally been finished.
Highlights of the Folden include one-off Chip Foose 20-inch alloy wheels, a gun metal gray paint job with orange racing stripes, a custom interior fully rebuilt, high-end audio system, and a badge that puts the Mustang horse and Holden lion together.
Proceeds from the auction of the Folden will be donated to the NZ Mental Health Foundation for Out Of The Blue, an organisation set up to help combat depression in men.
The auction will end on May 6, 2010.
Visit The Rock's website for footage from the unveiling of the Holden, and details on how you can get your hands on this unique car.