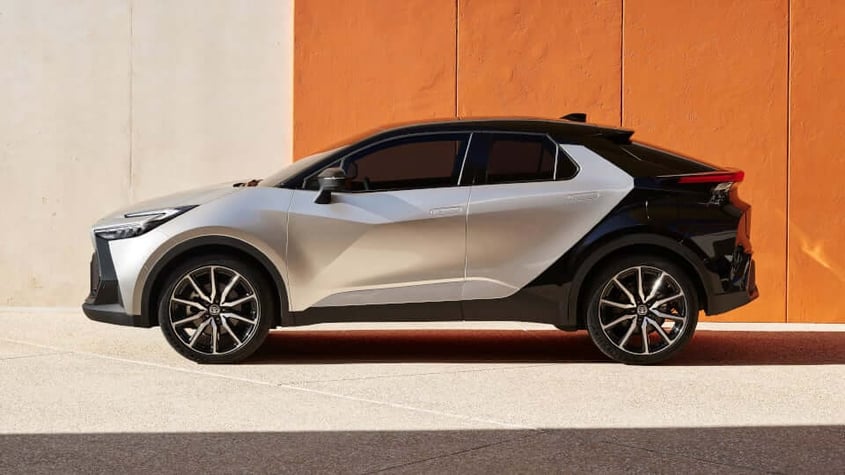 As New Zealanders increasingly opt for eco-friendly transportation, the upcoming Toyota C-HR, set to land on our shores in the first quarter of 2024, has never been more relevant. Combining avant-garde design with advanced hybrid electric technology, Toyota is elevating the standard for SUVs across New Zealand.
A Look into the Stylish Design
Super-Coupe Profile: Continuation of its pioneering design ethos, this new model features a "super-coupe" profile, distinguishing itself from the competition.
Signature Front: Sporting a sharp, aggressive front end, the C-HR also introduces the new face for future Toyota SUVs, mirroring the aesthetic set by the all-electric bZ4X.
Dimensions: Despite being marginally shorter and wider than its predecessor, its sporty stature and up to 19-inch alloy wheels give it a dynamic road presence.
Powertrain & Performance
1.8-litre Hybrid Option: The 1.8-litre engine is mated to the latest hybrid electric technology, delivering a maximum power output of 103kW—almost 15% more than the previous version. It is available in Front Wheel Drive and comes in three grades.
2.0-litre GR Sport: For those who prioritise performance, the 2.0-litre hybrid electric All Wheel Drive GR Sport configuration outputs an impressive 145kW.
Fuel Efficiency: Both powertrain options aim to significantly improve fuel economy, aligning with New Zealand's sustainability goals.
Going Beyond Green
Recycled Plastics: In an effort to reduce its carbon footprint, the new C-HR incorporates twice as much recycled plastic in its construction, utilised in over 100 different parts.
Emission Reduction: With Toyota New Zealand's commitment to lowering tailpipe emissions, the all-new C-HR will only be offered in hybrid electric configurations.
Awards and Recognition
The previous generation of C-HR garnered several awards for its innovative design and safety features, including the prestigious Euro NCAP five-star safety rating.
Unique Features and Final Thoughts
European Origins: This all-new C-HR model is exclusively designed and built in Europe, adding an extra layer of premium quality that New Zealand buyers will appreciate.
Higher Safety Standards: With improved driving characteristics and increased safety features, the C-HR is more than just a pretty face.
Rich History: Ever since its global launch in 2017, the Toyota C-HR has been breaking stereotypes, introducing a sleek, coupe-like aesthetic into the compact SUV market, which has traditionally been dominated by boxier designs.
Toyota New Zealand Vice President of New Vehicles, Steve Prangnell, summarises it best, "The C-HR has gained a loyal following among New Zealand buyers looking for a sharply styled small SUV, and this all-new model takes its dynamic good looks, performance, and features to an even more premium level, befitting its European origins."
With its tantalising combination of design, eco-friendly technology, and enhanced features, the all-new Toyota C-HR is set to create waves in New Zealand's automotive landscape.